Man found dead at rural address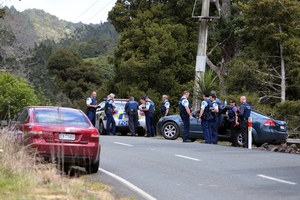 A rural Northland home nestled in native bush was under police lockdown overnight as detectives investigate the suspicious death of a 36-year-old man.
A team of forensic scientists was today scouring the home and collecting evidence from the property on Whananaki North Rd, 42km northeast of Whangarei.
Late yesterday volunteer firefighters from Hikurangi helped to erect tarpaulins around the site to protect the scene.
The drama began when the male owner of the house rang police for help and indicated an incident had taken place about 9.30am yesterday.
Detective Inspector Kevin Burke said when police arrived the man met officers, who then searched the house and found a 36-year-old Northland man dead.
At the time police arrived, the two men were the only people at the house.
It is understood armed police were sent to the house but it was some time before the occupant decided to leave the house. He had remained on the phone to police until they arrived.
The 50-year-old man was walked from the property, through grazing stock, surrounded by police and then put in the back of a police car and taken to Whangarei police station, where he was interviewed.
Mr Burke could not say whether the men were related but confirmed they were known to each other.
"We are establishing exactly what has gone on here and we have called on forensic specialists to help us," Mr Burke said.
It was unclear how long the team of scientists and detectives would be at the house but an autopsy was scheduled to be carried out in Auckland today.
Police were treating it as a potential homicide.
The house is located on family land in native bush on top of a hill accessed by a track that crosses a small creek. Nearby neighbours were thought to be family members.
Earlier in the day, as police waited for the man to come out of the house, a cordon was put in place about 4km up the road at Whatmough Rd.
Family members, including the 50-year-old's partner and adult daughter, were spoken to at the cordon by police.
Tourists coming from the settlement of Whananaki who passed the house were unaware of what was unfolding.
One American couple said they hadn't seen any police but instead had enjoyed a couple of days at the beautiful beach-side Department of Conservation camp.
"We didn't see anything coming here. We've had a great time at the beach."
Whananaki North Rd connects to the settlement from State Highway One, just north of Hikurangi, and winds through lush green countryside and bush before reaching the beach settlement.