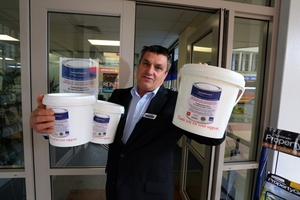 Get your cans out Whangarei - volunteers are needed for the inaugural Can and Coin Collection, in support of the Salvation Army.
The collection is being organised by Barfoot & Thompson Whangarei, to help the charity after recent funding cuts, says manager Martin Dear.
"We've got a real issue of needy people in Northland. I want the community to rally to it and give some time - it's a worthwhile cause," he said.
Mr Dear is appealing for volunteers to help with next Saturday's collection. "It will really only take two hours of people's time."
Volunteers will be collecting cans of food and other non-perishable goods, and Mr Dear has set a goal of 7000 to 8000 cans. "The main focus is on cans," he said.
Those who cannot donate cans will be able to give a coin donation.
For those Whangarei residents who can't donate their time, Mr Dear is hoping they will be ready with cans or coins when they hear the sound of cans rattling or even sirens on Saturday.
Collectors will be easy to spot in blue T-shirts, he said.
"We are going to make as much noise as we can from 10am. Listen out for the noise. Come out to the gate and donate. It's something the whole community can be involved in," he said.
There are also drop-off points at local businesses around the city, including banks, supermarkets, and The Northern Advocate office in Robert St.
It's something that Mr Dear would like to see become a yearly event hosted by Barfoot & Thompson Whangarei.
"We're really mindful of people in the community and we want to annualise this appeal," he said. "If we all do it together, we can really help Northland."
Whangarei Salvation Army's Major Cathy Elkington said Mr Dear's goal of more than 7000 cans would hugely help the charity in providing its services.
"That would be incredibly helpful. A food hamper for a small family costs around $100, and a good proportion of that is cans.
"It would probably stock the better part of 500 or 600 hampers for small families - six or seven months' worth for us," she said.
"That would be absolutely outstanding. Plus the fact we have these volunteers showing up on their Saturday - it's the community helping the community."
If you would like to volunteer, contact Barfoot & Thompson Whangarei on 09 438 3079.