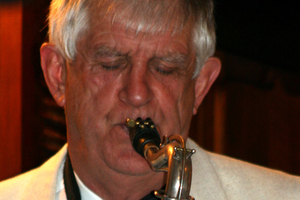 Festival co-organiser - musical icon Joe Carbery leads his swingtet.PICTURE ANNETTE/LAMBLY NAD 04Oct10 - IN THE SWING: Festival co-organiser Joe Carbery leads his swingtet, all part of the Nort
Well known Northland jazz musician Joe Carbery wants everybody to know that he's not stuck in Ukraine after losing his wallet and doesn't want people to send him $2000 to get out of the country.
Instead, Mr Carbery has been the victim of a scam where his email account has been hacked into and emails saying he'd lost his wallet in the Ukraine and needed money to get home sent to all his contacts in the hope money will be sent to the scammers.
It's a scam that's been around almost as long as emails have been and several Northlanders have been hit with it in the past and it has forced Mr Carbery to try to contact everybody on the email list and his email provider, but the hackers have changed his password and locked him out
of his email account.