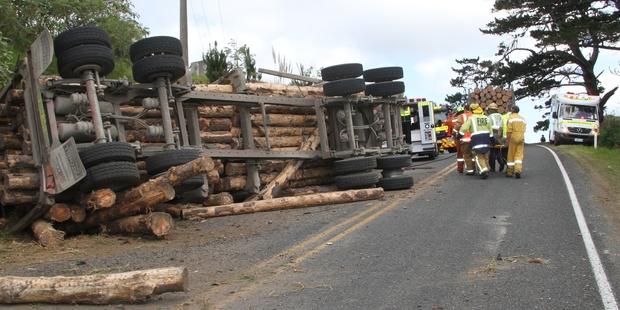 Just hours after a police officer warned about the speed some log trucks are being driven at in Northland, another one crashed.
A Whangarei man suffered suspected neck injuries when the log truck he was driving rolled on State Highway One near Waiharara, about 20km north of Kaitaia, on Monday.
A Houhora Fire Force crew had to cut the driver from the cab. St John paramedics treated him at the scene before taking him to Kaitaia Hospital. The truck and trailer is owned by a Ruakaka company.
The crash happened after Houhora's resident police officer, Senior Constable Tracee Knowler, said on her police Facebook site she was concerned about complaints she was receiving about log trucks on Aupouri Peninsula. "People are concerned about the speed at which some of these trucks are being driven, including through the 50km/h zone at Pukenui, and the manner of driving, such as tailgating and trailers running off the side of the road in front of following traffic," she said.
She had contacted all the logging companies she could identify last week. "Most of them were receptive, one local company even saying that it would check the trucks' GPS units. They have an internal system where the drivers have fines deducted from their wages if it is found that they have been speeding," she said.
"On the other hand, one of the biggest companies didn't show much interest in their drivers keeping to the speed limits, but were of the opinion it is up to me [the police] to catch them. Apparently we should just put more camera cars and patrol cars on the roads up here - basically a 'catch us if you can' approach."
Ms Knowler commended the companies checking their trucks' GPS units but an issue on the peninsula was roadworks from Te Kao south, with temporary speed restrictions ranging from 30 to 50km/h. "Unless all the areas with temporary speed restrictions are loaded into the GPS then the truck can still maintain its open road speed of 90km/h through them without being detected, so they don't give an accurate account of the vehicle's speed," she said.
"Since posting the news/photo of yesterday's crash on the Houhora Facebook page there has been passionate discussion over what/who is to blame, most blaming the condition of the roads but at the same time blaming the roadworks, if that makes sense.
"What amazes me about blaming the roads is that the basic guideline of driving safe, and what we all teach our kids, is to drive to the conditions, so if it's a crap corner or stretch of road then slow down and you won't fall off."