An inspiring Whangarei teen has captured hearts in the award-winning short film Trent.
Trent Reyburn's journey to raise awareness for World Vision and the 40 Hour Famine is the subject of Gareth Mauchline's short documentary that has won the open category in the Inspiring Stories film competition.
The theme for this year's competition was "Young Kiwis Making a Difference".
Trent, 15, organised and choreographed a street performance by members of Northland Youth Theatre that spread the message of poverty in third world countries, to try to encourage people to sign up for the 40 Hour Famine.
Trent has been a long-time supporter of the 40 Hour Famine.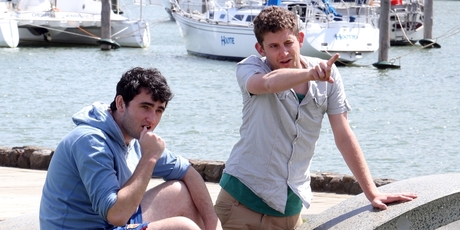 Mr Mauchline, an executive producer for Channel North, said he was pleased to win the award for best film.
"I think they liked it because it had some action in it, something actually happened," he said.
Mr Mauchline was filming the performance for an assignment for the station but reviewed the footage later and decided to turn it into a short film.
"I just cut it up a bit to make it fit the criteria," he said.
The finished product is a 3 minute 40 second-long documentary with a voice-over from an interview between Ms Mauchline and Trent showing the process of rehearsals and the finished product.
About 20 members of Northland Youth Theatre of all ages took part in the performance at Cameron St Mall that drew many onlookers