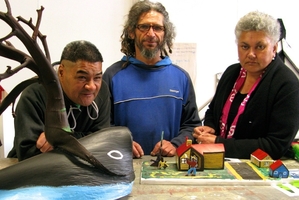 Shutting down a NorthTec arts course in Rawene would be devastating for the small Northland community, a former student says.
NorthTec is currently reviewing its applied arts courses in Whangarei, Kerikeri and Rawene. A consultation document proposes closing the three-year bachelor's course at Kerikeri, the one-year certificate at Rawene and the certificate in photography in Whangarei. That would leave Rawene's two-year diploma the only applied arts course outside Whangarei.
Former student Leona Kenworthy said axing the course would have a devastating effect on a small and mainly Maori community. The diploma would also be at risk because the certificate acted as a feeder course.
Ms Kenworthy said the Rawene tutors had national reputations and the arts programme had helped forge a strong sense of community identity. Graduates had gone on to be self-employed in the arts and had set up businesses, galleries and trusts, boosting Hokianga's economy. Other students had used skills gained on the arts course to move into social work and teaching.
Even if the certificate continued a planned fee rise from $1500 to $6208 would in itself kill the course. Ms Kenworthy said the price hike would bring Rawene into line with Whangarei, but the Whangarei campus offered a lot more including a new state-of-the-art workshop.
Sixty-five students waiting to do the three-year course in Rawene had been told for the past four years there was a good chance it would go ahead. Now, however, even the degree course in Kerikeri was facing the axe.
Ms Kenworthy understood education providers were under financial pressure but they also had an obligation, as stated by the Tertiary Education Authority, to help people ''reach their full potential and contribute to the social and economic wellbeing of the country''.
The outcome of the review will be known later this month.
Council candidate David Williams, who until recently owned Rawene's service station, said the prospect of NorthTec cutting courses made the town's business community nervous. The last time NorthTec scaled back Rawene wasn't a good place to be in business.
He believed the proposed cuts were driven by changes in Government funding.
Writing tutor Janine McVeagh, who helped revive the Rawene campus when moves were afoot to mothball it a decade ago, said there was no risk of that happening now. New courses were starting next semester and she believed a dropped horticulture course was being reinstated.
However, she was concerned about a proposal to increase applied arts certificate fees and that a promised degree course had not yet eventuated. There was strong support from the community for a degree course but there was still work to be done to strengthen Rawene's case.
''It hasn't happened when we expected, but that doesn't mean it won't happen.''
Rawene's applied arts courses were popular and had amazing tutors, she said.
Advocate arts reviewer Laurence Clark said he had reviewed ''extremely good'' artists from the Kerikeri and Rawene courses.
''Northland was going really well in the arts. This looks like going backwards,'' he said.
Ironically, the proposal to close some of Northland's top applied arts courses comes as Whangarei District Council considers building a multi-million-dollar Hundertwasser Arts Centre at the Town Basin.
A 2010 study found creative industries contributed $75 million a year to the Northland economy and employed about 2000 people.