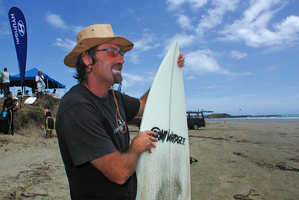 The Mecca of surfing in the Far North - the Tauroa Point break - and many other Northland surfing breaks are poised to receive a measure of protection from future development.
A submission from Mark Shanks and members of the Surfbreak Protection Society to the Northland Regional Council has been heard by a panel of three independent commissioners, who have indicated that they will recommend that the council adopt the New Zealand Coastal Policy Statement (2010), which protects significant surf breaks around the country.
"What it means is that the council will have to consider the effects on surfing when it comes to any future development around areas like Tauroa Point," Shanks said.
"We were pleased with the way the commissioners listened to us and took on board what we were saying," he added.
Mike 'Malibu' Hamilton of SPS said it is a good outcome for surfing and surfers.
"The decisions honour the hard work put in by many for the NCPS 2010, but the work is not over. The key now is to continue to build on the relationship with NRC as we move into the Coastal Policy process," Hamilton said.
Shanks said the protection of the internationally renowned Tauroa Point was not in doubt but now a process will begin with the council to identify and map out other surf breaks that deserve protection.
"There are really high quality breaks like the big wave break at Kawerua in the Hokianga but also there are several others in the region as well as a number of nursery breaks which are very important for the beginner surfer," he said.