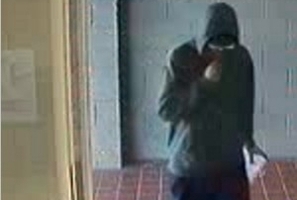 Brandon Joel Worthington was so desperate for cash to buy food for his partner's two children he carried out an aggravated robbery.
The 25-year-old went into the Onerahi Post Shop, pointed an imitation gun at a female worker and whispered his demand for her to hand over all the money.
The teller, on her first day of the job, handed over $1150. Minutes later Worthington bought food from a supermarket.
He appeared in the Whangarei District Court yesterday to plead guilty to aggravated robbery on September 9.
A police summary of facts revealed before Worthington went into the Post Shop he had taken a green plastic bag with a change of clothes and placed it near the public toilets on Waverley St about 2.20pm.
He went into the Post Shop and pulled his sweatshirt hood over his head and had a piece of grey material over his face to conceal his identity from the security cameras.
He also placed his hands over his face.
As he walked in he used an A4 piece of paper to conceal a black imitation pistol. A female teller was at the counter, along with two other staff and an elderly woman.
Worthington pointed the pistol at the teller and said in a quiet voice: "Give me all of your money, I don't want to hurt you."
The teller handed over all the notes in her till. Worthington fled and as he passed the toilets, grabbed his bag of clothing and continued running into a dense area off Worthington St, where he changed his clothes.
He then went back up the road past the Post Shop and into the supermarket where he bought groceries.
Police said the teller was traumatised and it had been her first hour of her first day of working at the Post Shop.
Eight days later police carried out a search of an Onerahi home and arrested Worthington.
He told police he and his partner needed cash to buy food for her two children. He was remanded in custody for sentencing on December 5.