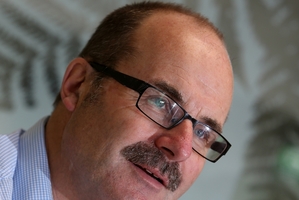 The establishment of a national kauri park in Northland is high on the to-do list, says the Department of Conservation's new boss.
Lou Sanson, who has been in the role of Director-General of Conservation (DoC), for less than a month, said the kauri park was a priority.
He was asked about the issue during a familiarisation visit to Northland. The former Northland Conservancy is now part of the huge upper North Island Conservancy extending from Waikato to Cape Reinga. Northland Conservator Chris Jenkins is its director of conservation operations.
Should a national kauri park be developed, incorporating the Waipoua kauri sanctuary and a network of other significant areas of kauri in Northland, it could be New Zealand's 15th national park and the only one in the top half of the North Island.
Progress on the concept which has been on the books in several forms over the years has stumbled largely over the shape of a partnership and management model between DoC and Waipoua kaitiaki iwi Te Roroa.
"I would like to think there will be resolution with iwi. I definitely want to see a kauri park up here," Mr Sanson said.
Partnerships are a focus of the job he has taken on only a few months after DoC's radical restructure into two parts. One will fund the upkeep and promotion of the public estate through special projects and partnerships with iwi, community groups, the private sector, local government and others; the other will carry out the ground-level conservation and facility operations.
Mr Sanson said he is excited about DoC's direction and its vision to "grow itself".
Growth referred not only to big-brand and strategic partnerships but increased awareness of the DoC estate and a sense of ownership by the public, he said.
Mr Sanson was chief executive of Crown entity Antarctica New Zealand since 2002.
Before then a long career with DoC included involvement in carving the department out of several other Government departments in the late 1980s. Between May 1998 and July 2002, he was conservator for the Southland Conservancy which included Fiordland National Park, Stewart Island and the sub-Antarctic islands.