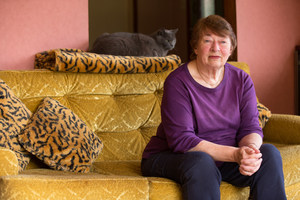 Former Zion Wildlife Gardens operator Patricia Busch has been declared bankrupt after she failed to pay more than $171,000 in legal fees.
Associate High Court Judge Roger Bell made the order on September 26 after a hearing in Whangarei early last week in which Mrs Busch participated by telephone.
The District Court last year ordered her to pay $171,866 in legal fees, plus costs, to Whangarei law firm Henderson Reeves Connell Rishworth for legal work carried out between August 2008 and August 2010.
Ms Busch appealed against the District Court decision in the High Court but lost.
She argued that when she signed an agreement for Henderson Reeves to represent her, she did so on the understanding that the firm was representing her then-company Zion Wildlife Gardens and not her personally.
All the lawyers' bills, she said, were paid for by her company Zion Wildlife Gardens and she did not have the money to pay them personally so there was no way she would agree to be a guarantor for the bills.
But Mr Brown said in all correspondence with Mrs Busch, the lawyers made it clear that they were acting for her personally rather than the company.
He said at no stage during the time the lawyers acted for her or the months they were chasing her up for payment, did she say she was not liable and that she even offered to sell her farm to pay the outstanding bills.
Mr Brown said it was only after legal proceedings were lodged to recover the debts that Mrs Busch claimed that she was not liable for them, but the company was.
In October 2012, Mrs Busch complained to the New Zealand Law Society about fees charged by Henderson Reeves.
She lost and then applied to the legal complaints review officer to review the decision of the society's standards' committee not to take action against Henderson Reeves.
A decision is pending.
Associate Judge Bell said she ought to have signalled her intention to complain about Henderson Reeves' bills before judgment was entered against her in the District Court.
In her counterclaim to the bankruptcy proceedings, Mrs Busch claimed that Henderson Reeves should have stopped doing work for her once the money ran out.