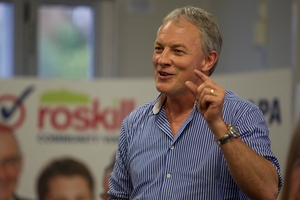 It was a "huge mistake" and "absolutely wrong" for coroner Gordon Matenga to prohibit publication of a NZ Defence Force Court of Inquiry report on the death of a Northland soldier serving in Afghanistan, says Labour Party Defence spokesman Phil Goff.
Publication of the report and the critical recommendations it contained was needed to prevent repeating mistakes made in the past, he told the Northern Advocate.
The coroner's "bizarre" prohibition for no good reason looked like creating a precedent which could put the lives of other Defence Force personnel at risk.
Mr Goff was disappointed Deputy Solicitor-General Cheryl Gwyn had last week decided not to act over the death of Corporal Douglas Hughes, 26, of Kaikohe, on April 3 last year.
She saw no irregularity in Mr Matenga adjourning an inquest into the rifleman's death because he was satisfied with the outcome of the Court of Inquiry.
Mr Matenga found Corporal Hughes' death was suicide and, without explanation, suppressed all evidence about it.
Corporal Hughes died in hospital following an undisclosed non-combat incident while off duty. His body was returned to New Zealand for burial with full military ceremony at Pakotai, 50km northwest of Whangarei.
His mother, Venus Poa, Mr Goff and Labour Justice spokesman Andrew Little all asked Solicitor-General Michael Heron to order a coronial inquiry into the circumstances surrounding the death.
Ms Poa last week said she was very disappointed an inquiry had not been ordered.
"I'm very upset and I've been unwell, so I don't want to comment on it at present," she said.
Ms Poa understood the Crown Law Office had turned down an invitation to appear on a Maori Television Native Affairs programme with Mr Goff discussing the lack of an inquest for her son.
"What have they got to hide?" she asked.
"All we need is an explanation."
Mr Goff said the Government was using the suppression order to cover up Court of Inquiry disclosures about inadequate training, preparation and management of NZ troops in Afghanistan.
The Court of Inquiry report had claimed Corporal Hughes was gay, revealing a need for the Defence Force to review its policies and practices for dealing with conflicts over sexuality, he said.
Mr Goff had written to the Chief Coroner and the Ombudsman asking for Mr Matenga's decision to be overturned.
"The Chief Coroner basically said he was not prepared to act and the Ombudsman said she had no authority to investigate courts, judges or coroners." The only way to challenge Mr Matenga would be to bring an action in the High Court, which Mr Goff said would cost him up to $20,000 and a lot of time which he could not spare from his other responsibilities.