Terminally ill, Charles Cooke could not travel to collect his QSM. But the QSM came to him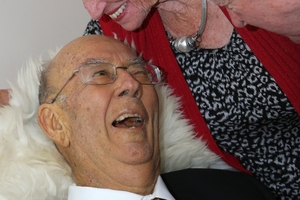 Charles Cooke was determined to wear his "number ones" when the Queen's Service Medal was pinned to his chest.
In his smart suit, he looked every bit the dependable, dedicated ex-Air Force and RSA stalwart as he received his award yesterday.
But the man whose years of service with the Royal New Zealand Returned Services Association Affiliates Forum and other organisations saw him named in the Queen's Birthday Honours this year had mustered every ounce of his strength to leave his bed.
Because of Mr Cooke's fast deteriorating health, the QSM citation and insignia were bestowed not at a vice-regal occasion at Government House but in the presence of his loved ones, friends and former colleagues at Radius Rimu Court Rest Home in Whangarei.
The former Mangawhai resident is staying at the home during the last stages of his terminal illness.
The honour of reading the citation and pinning the medal on Mr Cooke's chest was given to Northland Regional Council chairman Craig Brown after royal authority was given to bring the ceremony urgently forward.
"These awards are not just given out, they have to be earned and they are well deserved. It is my privilege to be here to perform this duty on behalf of the Queen's authority granted through the governor-general's office," Mr Brown said.
"I'm sorry, Charles, I'm very much second best when it comes to who awards this to you, but it's my absolute pleasure do it."
After the citation, Charles Alexander Fitzgerald Ransfield Cooke, QSM, held his head high, found his weak voice, and spoke.
"I'm very proud. Thank you all very much," he said.
His wife Betty also thanked the couple's family and friends: "From my heart and the depths of my soul, I want to thank you all so very much for your loving support."
The citation described Mr Cooke's local, regional and national RSA positions, president and executive committee roles with the King's Empire Veterans and a number of other roles, including national secretary for the Royal New Zealand Air Force Association and Air force Liaison Officer.
Whangarei RSA president Archie Dixon and past president Brian Toogood said Mr Cooke was "a great committee man".
"Anything you asked Charles to do got done," Mr Toogood said.
Also there to see Mr Cooke receive his honour was Jeremy Hubbard, a former director of the Museum of Transport and Technology in Auckland, where Mr Cooke was on the governing board for many years.