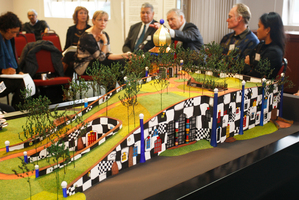 I suspect Friedrich Hundertwasser is having a good old laugh at the drawn-out process that the Hundertwasser Art Centre proposal for Whangarei has become.
If Whangarei can't get its act together and decide whether to build the HAC, there won't be another one. Hundertwasser's ethos involved taking existing buildings and "healing" them by transforming them into a piece of architectural art.
The former NRC building at the Town Basin is the only building remaining, that he is known to have sketched designs for, with this ethos in mind.
It will come down to the new Whangarei District Council deciding yes or no, and if it's a yes, working to get work under way before any local government reforms take place and the existing WDC disbands. Otherwise, two years down the track from October 12, it will be deferred off - again - to any new super council or unitary authority. Why would Hundertwasser be laughing? Because as this drags out and we debate the pros and cons, we are also debating art, something Hundertwasser was clearly a proponent of.
And as mentioned in Wednesday's Northern Advocate Hundertwasser issue, there are no straight lines in nature, or politics, it seems.
I have spoken to people who have made their mind up for and against after reading our special issue. That's all we can ask for, that people make a decision after knowing some of the facts.
One person stated they were sick of it. Fair enough - given Hundertwasser's bent for healing buildings, let's hope when we get a final decision one way or the other, the rifts it has created in our community can also heal and we can move on with life.