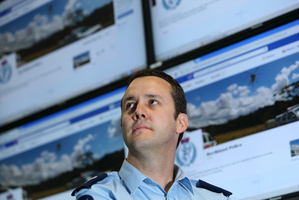 Wonder Woman had superhuman powers and superior combat and battle skills, Batman had a utility belt and now Northland police have a new crime-fighting weapon of their own - Facebook.
And already the new tool in their arsenal has proved its worth.
The Northland Police Facebook page went online on September 24; two days later a woman who appeared as a wanted shoplifter was arrested.
Another of the first posts was a call to identify two men in security camera pictures, believed to have stolen several pairs of jeans from Farmers in Whangarei. One of the men has a pushchair and a preschool child with him.
It seems the public have been keen to see what Northland police will post with nearly 700 people liking the new page.
Senior Sergeant John Fagan was happy with the quick success and hoped the social media network would would act as a way of promoting discussion in the community as well as solving crimes.
''We are really excited about all the possibilities with Facebook.''
He said it was an excellent forum to get crime prevention messages out to the public. It was intended photos of wanted people would also appear on the page.
The rules around police posting wanted pictures via social media was the same as an other form of publication. They must be wanted on active matters and police must have exhausted other reasonable means of locating them.
Details about joining the police would also be promoted through Facebook.
The new page would contain information from stations across Northland but it was a page created late last year by Far North Senior Constable Tracee Knowler that has already proved to be a huge success for police.
The Houhora officer has solved numerous crimes in her remote Far North patch thanks to information gained via Facebook. That page has 1302 likes.
''The internet and Facebook is a handy tool to get information out there,'' Mr Fagan said.
Another Facebook page set up by Kaikohe locals has not only identified the teenage suspect in an armed robbery but also found the owner of the stolen pistol that was allegedly used.
When police last week announced the arrest of an 18-year-old man in relation to the robbery at gunpoint of The Shed Liquor Centre, they thanked readers of the Kaikohe Community Watch Facebook page for providing vital information. No one was hurt in the robbery, but about $400 was taken.
Businessman Tony Taylor, who administers the page, said the owner of the air pistol had also been found though the page.