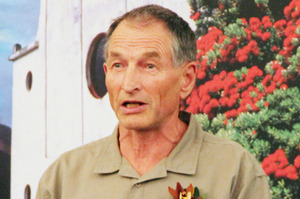 A Far North volunteer ambulance officer has been honoured for his valiant attempts to save a drowning man on Ninety Mile Beach.
Kerry Sinclair, of Waipapa, was honoured by the Royal Humane Society of New Zealand for rescuing and trying to resuscitate Jack Wiki in December 2009.
His commendation was awarded during the Far North District Council citizens' awards ceremony in Kaikohe last Friday.
Mr Wiki, also known as Jackie, was gathering kai moana when two of his mokopuna, who had been playing in shallow water about 50m away, were caught by a wave and dragged out into a rip.
The 54-year-old from Te Kao managed to reach his grandson and held him out of the water, above his head, until another rescuer could take the boy from him. The two children, then aged 6 and 7, were saved but Mr Wiki drowned.
Mr Sinclair was off duty and driving on the beach at the time. He was alerted to the emergency and saw Mr Wiki's body floating in the breaker line 100m from shore.
Together with three bystanders he waded out to Mr Wiki, brought him to the beach and administered CPR for 30 minutes with the help of two others. Sadly they were unable to revive him.
Mr Sinclair is one of five people recognised for their heroic efforts resulting in the successful rescue of Mr Wiki's mokopuna, with the certificate presented on the society's behalf by Mayor Wayne Brown. Mr Wiki has also been awarded a posthumous certificate.
At the time Jackie Wiki junior told the Advocate his father knew the dangers of Ninety Mile Beach inside-out but did not hesitate to leap in when he saw his mokopuna in trouble.
''He knew the danger, but he loved his grandchildren very dearly. My Dad is a hero, whether it's saving someone in the ocean or picking someone up off the street. That's his nature.''
He had spent most of his life at Te Kao, only moving to Auckland 10 years earlier to be closer to his children.
The Royal Humane Society of New Zealand has recognised extraordinary acts of bravery and humanity since it was formed in 1898.