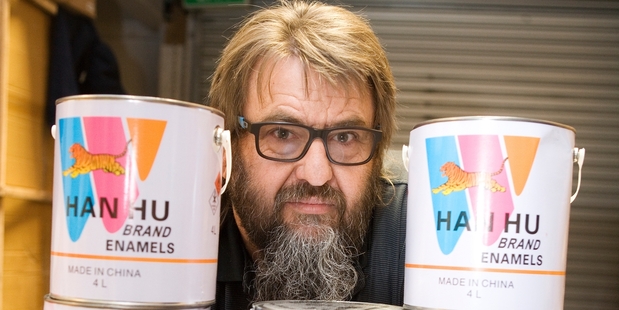 A Whangarei businessman is out of pocket and facing a bill for cleaning up a Porirua home after a brand of paint dubbed "toxic" that he imported from China as a water-based product was found to contain petrol.
A woman was hospitalised and the Government has recalled the product.
Toby Brasting, from Whangarei's Arthur's Emporium, has to destroy dozens of cans of Han Hu paint he imported after Karen Odell, 46, was hospitalised from the effects of the fumes from the Chinese paint, which she used to paint her daughter's bedroom at her Whitby home, north of Wellington, four weeks ago.
The Ministry of Business, Innovation and Employment (MBIE) has now recalled the products. There were up to 70 four-litre tins sold in Northland. Mr Brasting imported 504 tins as part of an emporium importing group. It was sold in Auckland, Tauranga, Hamilton, Rotorua, Wellington and Whangarei.
Mr Brasting goes on up to three buying trips to China every year and says he was sold the Han Hu paint on the basis that it was a water-based enamel paint. But after it arrived and Ms Odell raised concerns, it was found to be petrol-based and not suitable for use indoors.
"It's fine for outdoor use, but because there's nothing on the label to say it's got petrol in and shouldn't be used indoors, we rightly have to recall it and will give people a full refund if they return it," Mr Brasting said. "It's the lack of labelling really that's caught me out. I've had people using it outside and they've said it is great for that purpose, but you can't use it inside if there's petrol in it like that. The fumes will disappear after a few days, but it shouldn't be used indoors."
He will have to bear the costs of destroying the paint and he would not be getting a refund from the Chinese company he bought it from.
The experience has not put him off trading with China.
"I've just sent $300,000 to China [for goods purchased] and I normally import paint from a different source in the US. But it wasn't what I ordered," Mr Brasting said.
He said the consignment made up just a small part of a 40-foot container of goods from China and as such the Chinese company did not flag it as potentially dangerous goods.
MBIE said it was doing more tests on the paint.
Spokesman Britton Broun said retailers had removed it from their shelves. He advised people who had bought the paint not to use it and return it to the retailer for a refund.
Initial tests by the Institute of Environmental Science and Research revealed toxic compounds in the paint but it could be another few weeks before firm results are known.
Authorities are also investigating how the paint got into New Zealand. Hazardous substances such as paint must be approved by the Environmental Protection Agency.