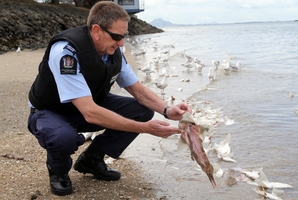 Residents living near the Onerahi boat ramp could be smelling more than ozone wafting up from the shore if over 100 dogfish carcasses remain where they were filleted and dumped.
The small sharks, also called rig, which are abundant in Whangarei Harbour at this time of year, were caught some time on Thursday.
Passers-by noticed a group of men dragging a fully laden net up the boat ramp onto the grass verge at about 8pm, being joined by other men who had a ute and trailer, and "going for it" on the filleting for about three hours.
A man whose motor home was parked nearby, and who did not want to be named, said there were at least six men and they appeared to be Pacific islanders.
Afterwards they dumped the carcasses at the bottom of the boat ramp, packed up and left, he said.
Fisheries officer Steve Rudsdale said a net had to meet mesh regulations but there were no limit on the size of rig or other small school shark and allowable take is 20 per person per day.
Mr Rudsdale inspected the Onerahi dumping yesterday morning and said there were no compliance issues as far as Ministry of Primary Industries (Fisheries) was concerned.
"In this case we can't just presume there were too few people fishing for the size of the catch or that the mesh was the wrong size, and there's no reason to believe this rig was caught to be sold," Mr Rudsdale said.
Fisheries officers carry out regular fish shop inspections to ensure their supplies come from licensed commercial operators.
The carcasses on the tideline at Onerahi ranged in size from about 25cm to 50cm. They had been "trunked", or filleted, and their fins left on.
Local fisherman Marty Colcord said the size of the catch was big and it was "disgusting" that the carcasses had been dumped at the shoreline.
"Spotty dogs (dogfish) are pretty harmless, they don't bother anyone, they're more of a nuisance for getting your bait," he said.
Many carcasses had dispersed over the two tides since the dumping but at mid-morning yesterday there were estimated to be over 100 still on the beach, the ramp and in the shallows.
Rig are also known as lemon fish, spotted dogfish and gummy sharks, and in Maori, kapeta, mango and pioke.