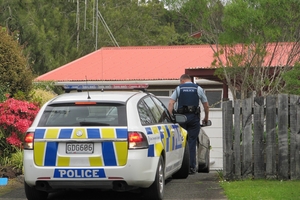 A Kamo woman arrived home yesterday to find police in her home talking to a young woman, suspected of being a serial burglar, who was hiding in her house after fleeing police.
The resident, who lives in McMillan Ave, got home just before 1pm to see three police cars, a number of officers and a police dog on her property.
She did not want to be named, but said it was a surprise to see the police there. Surprise soon turned to shock when she realised they were talking to a young woman who had been found hiding in the house after allegedly earlier carrying out a burglary in nearby Summit Lane.
She said: "I walked up the driveway and an officer came out and explained what was happening. This girl had been chased by the police and she had got into our house and was hiding downstairs.
"I'd like to thank the police though, they were excellent - very professional and they even helped me find the electronic tablet the girl had taken from our home and hidden elsewhere, obviously hoping to come back for it later."
One of her neighbours said the street had never seen so many police cars at one time.
"It's such a quiet street and it's not normal to see that many police here," said the man, who also did not want to be named.
In the hunt for the alleged burglar, police were stationed on a number of streets in Kamo while a dog handler followed her scent.
Officers were seen parked in Clark Rd, Sierra Ave and Carr St. Late yesterday the young female was still being interviewed and charges were likely.