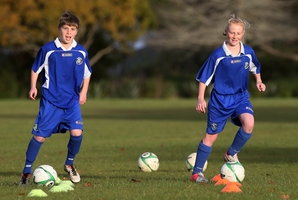 Youth football in Northland seems to be at its peak now it has five North Force players involved in national talent centres.
Northlanders Anya Gross, under-13, Nada Walker, under-14 goalkeeper, Breeze Durham, under-15, View Rungpao, under-15, and Lewis Miller, under-13, have all been identified as players with promise who will take part in a training camp in October.
Football development officer for Northland Dave Alabaster said he hoped the rise in players involved was due to the programmes North Force was delivering.
"You'd like to hope it's from our programme [and] that we're developing good players," Alabaster said.
"All of the players are part of Northland talent centre programme, and part of that is playing for North Force so they get the chance to play against some of the best players in Auckland.
"I think their selections are recognition of the talent centre programme and the coaches involved."
Alabaster added that while five players had made the cut for the national talent centre, there were another 10 who had been away on talent on location days.
In the grand scheme of things, the players' selection into the talent centre is a step towards New Zealand selection.
"What happens is generally they start at 13," Alabaster said.
"[Then], at the end of each talent centre camp, the bottom 10 to 20 per cent are dropped off. Each time there is a camp, there are less [players] each time, once you go through the under-16 team it is basically your under-17 World Cup squad."
While Alabaster has never attended a national talent centre camp he is aware of what the expectation are from his time with New Zealand Football, adding North Force would do all they could to prepare the youth footballers.
"They'll be put through their paces, and it's quite hard for them too because they won't know anyone else.
"We've had kids drop out after the first national talent camp because they didn't like it, didn't enjoy it. And, some of those Auckland kids can be quite dominating, so we do try and prepare these kids for what to expect."
Players who will know what to expect already are Miller and Walker who are into their second and third time at the camp.
Alabaster said the kids selections showed you should never give up, adding that just because you don't make a talent camp early on in your footballing career you are still able to get involved later.
"You get players who go along and don't make it first time and then give up. [But], it shows you should never give up, especially for the older two [Durham and Rungpao]. Those kids have worked hard over the last few years and would have been disappointed with not making it but eventually they've ended up where they want to go.
"That is always our message to all of our players, it's all about hard work ... talent is just a small part of it."