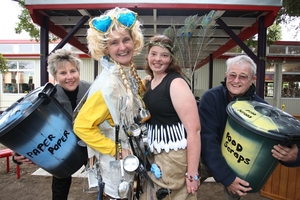 Voters can be a fickle bunch but Mangakahia-Maungatapere Ward Councillor Sharon Morgan reckons she has a simple way of keeping them on board - represent them well, listen and deliver, things that have seen her elected unopposed to the ward for the second straight term.
When nominations for the October 12 local body elections closed on August 16, Ms Morgan was the only person standing for the ward, meaning she is elected unopposed for the second time.
It is unusual for a councillor, or any politician for that matter, to be unopposed twice in a row, but a quick talk to some of the people in the ward illustrates why. She gets things done and the ward is generally happy with how she represents them.
In a sign of how true that is, the Advocate rang Ms Morgan - whose late husband was All Black Joe Morgan - to arrange a time to talk, but she was too busy hopping from one community group meeting to another so could we put it off a day or two please?
"But not tomorrow morning, because I've got a couple of meetings to go to."
No problems, Sharon, I'll just ask some of the voters what they think and the first place to go is the local pub where they know everything. Poroti Tavern owner Shannon Beeston said in the seven years she had been running the place she could not recall any patrons ever discussing local body politics.
"They are more interested in discussing Fonterra and the milk price, and things like that," Ms Beeston said.
Bob Jamieson is chair of the Mangakahia Sports Ground committee, which Ms Morgan is also on, and said there were various reasons why Ms Morgan was again unopposed, as previous ward councillors had been.
"We haven't really got any contentious issues out here at the moment. If there were one or two of those you may get somebody else standing, but Sharon Morgan is very active in the district and the community at all levels," Mr Jamieson said.
"She's involved in virtually, if not, every, community organisation and you can always contact her if you want information or advice. People out here feel she represents them pretty well - if we didn't, we'd get somebody else in. But people seem to be happy with the way things are going with Sharon."
Ms Morgan said she felt humbled to have such support from her community but, being born in the ward, growing up there and returning after college to live and work there again meant she had a good handle on issues affecting her community.
She said rural councillors generally had a closer bond with their community than urban councillors, who often had a more transient population. "It's a real community out here as well. For me, the reason I'm here and not having to fight an election is because I have a lot of connections with the wider community as a young person growing up here and coming back and raising a family here," Ms Morgan said.
"I understand that one of the main issues for rural people is ensuring there is adequate roading and the other things that are needed, and that's what I've been trying to do for them. It's a real bonus to have the people out here supporting me."