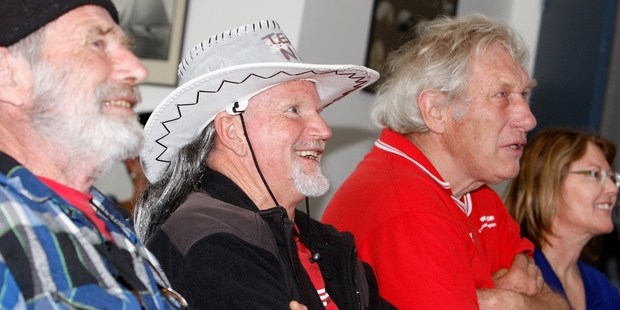 Northlanders are again united behind Team NZ and reckon today is the day after a nightmare weekend on the water for the Kiwi crew in San Francisco.
Many staunch supporters, who gathered at various locations over the weekend to watch the drama unfold, were hoping to hear the sound of popping champagne corks this morning.
Team NZ have eight points and need only one more win to lift the Auld Mug from Oracle who need six more wins.
Tides, winds and ultimately race time limits conspired against Team NZ on Saturday.
The Auld Mug was tantilisingly close in the first race when Team NZ was 1500m ahead of Oracle. But victory slipped away as the race became a race against the clock - with the 40 minute race limit winning out.
During the race those at the Whangarei Cruising Club were vocal in their support for the New Zealand boat.
Whangarei's Lisa Shervell was jumping up and down as New Zealanders extended their lead.
"Go boys, go," she yelled at the big television screen.
However, on learning the rule about the race time confidence turned to nervousness.
"Oh my god, I didn't even know there was that rule. This is so nerve-racking."
Others were shaking their heads and were clearly not pleased about learning of the new race rule.
Mistakes in the rematch race saw Oracle dominate and cross the finish line 1min 24 sec ahead of Team NZ.
But come yesterday and the sausages were again cooked, bread buttered and the cups of tea poured at the cruising club.
And yet again they were disappointed there was no racing, in a regatta that never seems to end.
Long time sailor Sandy Livingstone said back in the day racing was done out in the open waters clear of any headlands and not in a harbour like San Francisco.
"They wouldn't have these problems if they were out in open water. Never mind, I think Team NZ will get there in the next race."
Wally Carter reckoned he'd just about reached saturation point with the America's Cup and hoped the team finished it off today.
"I've been here all week, so I hope they bloody finish off."