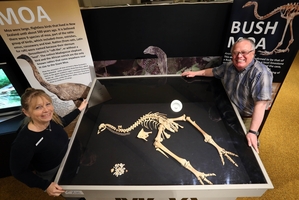 No bones about it, when it comes to giant birds the moa was up there with the tallest.
Now Northlanders have got the chance to meet a moa up close and personal when a new exhibition of a moa skeleton found in a Whangarei cave opens at Kiwi North.
The almost complete juvenile bush moa skeleton, and the bones of others, were discovered in May by Ian Calder on his 20ha lifestyle block in Abbey Caves Rd near Whareora, and gifted to Kiwi North.
Kiwi North director Stewart Bowden says he's quite relaxed about the unveiling of the exhibition, as the work of carefully identifying, cataloguing and arranging the bones is now done.
"It's been a lot of hard-work over the past six to eight weeks," he said. "The amount we've achieved in that time is amazing."
Mr Bowden said he's had feedback from across the country about the find.
"It's now looking that there's five moa - looking at around 2000 to 10,000 years old. "There are not a family as we originally thought - each moa has about 1000 years difference in age," he said.
Water had started entering the cave and it was likely "that in a couple of years time it would all be mush".
"It would be so fortuitous," Mr Bowden said.
He thanked Kiwi North registrar Natalie Brookland, who took on the task of piecing the moa bones together.
"To build an entire moa skeleton is remarkable - and while also cataloguing the whole thing," he said.
Kiwi North manager Allie Fry-Kewene said the find had blown her away.
"What brings it home for me on how monumental it is for the museum is how old they are and how they [moa] were walking on this land long before man.
"And the fact that most probably Ian was the first man to ever be in that cave," she said.
Kiwi North education officer Chris Parry said that two classes from Maunu Primary School got a sneak preview of the exhibition on Thursday.
"They literally gasped with excitement. Comments were 'wow' and 'amazing' - it was a great reaction."
The Moa Cave exhibition opened at Kiwi North today and continues 10am to 4pm daily.
Head to Kiwi North, Gate1, 500 SH 14, Maunu, Whangarei or phone 09-4389630.