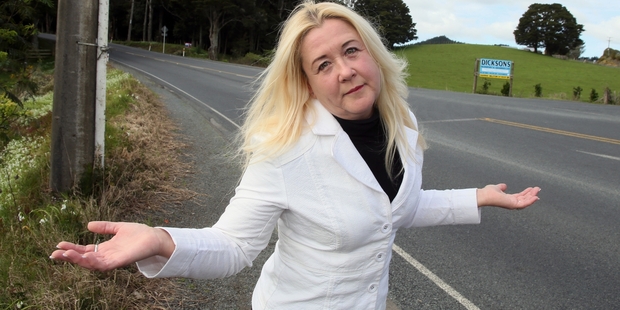 A Whangarei real estate agent says she never applied for consent for a roadside sign - but Whangarei District Council is charging her more than $2000 for the paperwork anyway.
Shelley Anderson, of Sanderson Realty, said council staff had "acted like little gods" for initiating a public notification process she said she did not authorise.
In 2010, Ms Anderson paid $1000 for a retrospective consent application for an advertising sign that had been in a paddock, well off the road, near the Ngunguru and Harris Rds junction at Glenbervie for two years. The owners of a blue and yellow billboard across the road, on a corner, were also told to apply for consent at the time.
Their application was approved but Ms Anderson's was rejected. Then began a lengthy period of querying that decision and what action might next be taken.
Ms Anderson's sign was removed in June.
The latest bout in the now three-year long stoush was played out between Ms Anderson and senior planning staff at the council's licensing, exemptions and objections committee last Wednesday.
Ms Anderson is disputing the $2000 bill she got in June this year. Included in the itemised account are charges for every time council staff spoke to her on the phone, emailed or photo-copied documents.
"I didn't think I had engaged any further services, just the services I had paid $1000 for in 2010," Ms Anderson said.
At last week's hearing, councillors John Williamson and Shelley Deeming asked principal consents officer Paul Lees if it was usual practice for the council to charge after a service had been carried out, rather than get the money beforehand.
Mr Lees said payment would normally be received first but he felt the case needed to progress and he believed he had Ms Anderson's permission.
Ms Anderson had been told her sign was non-compliant because of its colour (burnt orange), size and placement. Among other dealings with staff over the matter, Paul Dell, manager district living, had told her the colour needed to be toned down.
Ms Anderson believed it was more compliant than many signs in the current crop of election billboards. "There are worrying inconsistencies here. There is one law for one and one for another."