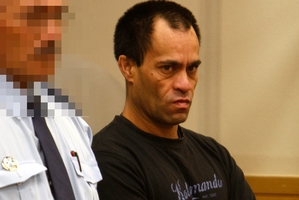 The family of a Far North couple murdered "execution style" say they can move on and start the healing process now the killer has been jailed for life.
Edwin Harvey Maheno, 39, appeared in the High Court at Whangarei yesterday and was sentenced to life imprisonment with a minimum non-parole period of 18 years in prison for murdering Ivan Maheno and his wife Carmen Maheno, his aunt and uncle.
The couple were killed on May 19 at their Pamapuria home, south of Kaitaia.
Justice Geoffrey Venning said Maheno was a "dangerous man" who had committed the murders with a "high level of cruelty and callousness".
"It's not going too far as describing your actions as similar to execution-style killings," the judge said.
After the sentencing, Patsy Popata, Carmen's mother, said the completion of the court process offered some closure and the healing could begin: "We can start the letting go and the forgiveness, and we can start the healing process."
Carmen's brother Leon Popata said no sentence was long enough for the pain the family had suffered. It was not a time of celebration.
"It's time to heal now. There were two families involved and they have also gone through a loss, and then another loss with him going to jail."
He said the family wanted to ensure his nephews, aged 17 and 9, were set up for the future.
"They are doing good and they are quite strong."
The court's public gallery was filled with family members from both sides and family members read their victim-impact statements.
Patsy Popata told Maheno he "gutlessly and selfishly" murdered the couple, while a cousin, Poti Ann Wilson-Hemara, said he stole many things on the day he murdered the couple.
"You stole a lifetime of celebrations, the birth of moko, coming of age, joining of love just because you took their lives away."
In a letter, Harvey Maheno, 9, said he was lonely: "No more hugs and kisses, night and day."
He said all he had was DVDs and photos of his parents.
The court was told Edwin Maheno and the couple were living at the property where he had grown up raised by his grandmother. When she died in 2009, the property was bequeathed to Ivan.
On May 19, Maheno heard the victims discussing his failure to stick to domestic chores.
He was so incensed he loaded his .22 rifle, pointed it at Ivan and shot him in the head.
Carmen Maheno ran to investigate, and struggled with the defendant. He punched her in the head, struck her in the abdomen with the rifle barrel, then in the head with the butt as she crouched on the floor.
A second struggle took place as Edwin Maheno tried to reload the rifle.
Carmen ran towards a neighbouring farm fence. Maheno shot her in the back of the head, then in the buttocks.
He turned himself in to the Kaitaia police.