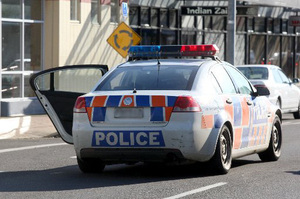 Two Northland teenagers have been arrested after yet another knifepoint robbery in which a service station worker managed to escape from his alleged attackers as they tried to bundle him into his own vehicle.
Following a search of a Dargaville home yesterday about midday police arrested a 17-year-old female and a 16-year-old male and charged them both with aggravated robbery. They also recovered a wallet and credit cards, minus the cash - that was allegedly taken in the robbery.
The duo, both from Dargaville, were to appear in Whangarei District Court today.
It is the seventh armed robbery in three weeks in Northland. Dargaville police Detective Sergeant Jonathan Tier said the male attendant at the Mobil Service Station on Normanby St was robbed at knifepoint about 10pm on Saturday.
The worker, 25, had just locked the service station for the night when he was approached by two armed offenders, who had their faces covered. One offender was armed with a long knife and the other with a hammer.
Mr Tier said the offenders allegedly threatened the worker, demanding his wallet and other personal possessions.
"They tried to force him into his own car at the location, possibly with the intention to have him drive them somewhere. The man managed to break free and ran across the forecourt and on to Normanby St," Mr Tier said.
The worker was chased and pushed over on the road where he was kicked several times before the other two ran off. A police dog later tracked the offenders towards Hokianga Rd, Dargaville.
Meanwhile, police are yet to make arrests in three other aggravated robberies in Whangarei last week.
Police are still calling for information from the public to help identify a man who robbed the Onerahi PostShop last Monday. Later that same day three armed men, one with a knife, another a firearm and the third with a hammer, robbed the Otangarei Takeaway. Then last Wednesday as the owner of the Vegie Twins on Kamo Rd shut up shop a man armed with a gun entered the business and demanded money.
Anyone with information should contact Detective Sergeant Shane Pilmer on 094304589 or Crimestoppers, anonymously, on 0800 555 111.