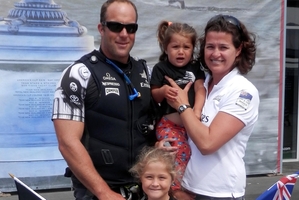 A Northland crew member on board Team New Zealand says the fight over the America's Cup is far from over, despite the Kiwis only needing two more wins to clinch the title.
Grinder Chris McAsey hopes to be back home in Whangarei with wife Suzy and their daughters Brooke and Billie on Sunday but said Oracle Team USA were not prepared to give up the fight yet.
Team New Zealand are two points away from claiming the America's Cup after pulling off a stunning victory in the tightest race yet of the regatta yesterday. After suffering a 47-second loss in yesterday's early race, Team NZ bounced back to claim a crucial pressure-relieving win in race 10.
"Certainly feeling better after finishing the day with a win. It was a bit of a wake-up call but we're delighted to make a comeback after the first race," McAsey said from San Francisco. "It's physically tough but mentally tougher ... just to see how strong they [Oracle] are. They make good comebacks so it's far from over."
The support from Kiwis and even Americans waving the New Zealand flag at the race venue, he said, was unbelievable and helped the crew realise they were slogging it out for their country.
McAsey is looking forward to returning home after a gruelling five months away, with his family in tow.
His wife Suzy said three and a half months away from home had taken its toll on her family and she looked forward to returning to Whangarei. Fellow Northlanders she's met at the race venue included former Northland Rugby Union president John Campbell and ex-Taniwha coach Adrian Ferris. Racing resumes tomorrow.