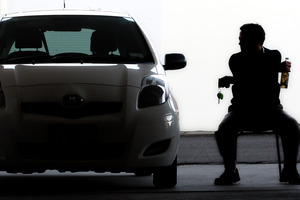 An alleged drink-driver dobbed in by members of the public in the middle of the afternoon on Friday was almost four times over the limit.
Senior Constable Tracee Knowler, of Houhora police, said it was one of the highest, if not the highest, readings she had taken in her 18 years of policing.
She was alerted about 2.15pm by two people in different parts of Pukenui, 50km north of Kaitaia. One called 111, the other ran into her station.
It didn't take long to find the driver, who blew a breath-alcohol level of 1534 micrograms of alcohol per litre of breath. The legal limit is 400mcg.
Ms Knowler was grateful to members of the public who had reported him, preventing anyone from coming to harm. He was on his way home to Te Kao, 30km north, so could have done a lot of damage on the way. It was also close to home time for the area's schoolchildren.
His licence was suspended for 28 days and he will appear next week in the Kaitaia District Court charged with driving with excess breath alcohol.
The Northland driver with the highest alcohol reading to date was Peter Bootes of Ngunguru, who was off the scale when police tried to breath-test him in 2010. The highest reading the machine could handle was 2000mcg. They had to perform a blood test and found a blood-alcohol level of 458 milligrams of alcohol per 100 millilitres of blood, almost six times the limit.