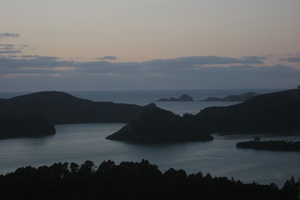 A Far North health trust is to hold a fresh election after a candidate was allegedly wrongly disqualified.
Whangaroa Health Services Trust chairman Brendan Tuohy said the incident was an embarrassment and would be put right in a re-run poll.
He said an incorrect electoral map was used in the April election for a Taupo Bay representative, wrongly excluding candidate John Ralph. Elected trustees have to live within the Whangaroa area.
The disqualification left only one candidate, Bruce Mills, who was declared elected after nominations closed on April 11.
Mr Tuohy, who joined the trust after the election, said he could not be sure whether Mr Ralph's disqualification was deliberate or the result of sloppiness.
"Deliberate or not, it amounts to an embarrassing failure of electoral processes," he said.
Nominations for a fresh election were advertised last week and will close on October 10. If more than one person is nominated the election will be held in late October.
Mr Mills would continue in the position until then because his nomination was valid.
Mr Mills, however, was not convinced of the need for a fresh election. He had always believed the trust's electoral boundaries followed the old county council boundaries and had yet to see any evidence that was not so.
If the old county boundaries applied, Mr Ralph lived too far north and the trust had been correct to disqualify him. Mr Mills wanted to see the boundaries discussed at the upcoming annual meeting in October.
Mr Ralph, a former trust employee, said he intended to contest the election.
Mr Tuohy said the trust now had a strict policy of following its rules and procedures. "There have been a number of electoral issues going back years and we want to make sure they never happen again."
The trust has two more elections coming up. One is to replace Violet Walker, who was appointed as Maori representative on the local runanga's recommendation. However, she is ineligible because she no longer lives in the Whangaroa area. Nominations for a Whangaroa ward representative are also being called.