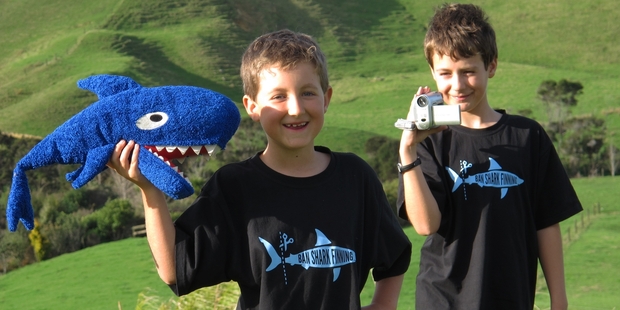 An 8-year-old Northland boy's video calling for an end to shark finning is being used by Greenpeace New Zealand as part of a national campaign.
The two-minute video, called Hector on Shark Finning, started when Hector Danilo had to prepare a speech for his class at Kerikeri Primary School.
Hector didn't know what to talk about until the topic of shark-finning came up at home.
He said he picked the topic because he didn't like what people were doing to sharks.
"People catch sharks, cut their fins off while they're still alive, and throw them back in the water to die.
"They take the fins back to land and make soup out of them."
Hector researched the subject and wrote the script himself. He found that 100,000,000 sharks are killed each year for their fins - that's not a typo, it really is 100 million - while sharks kill an estimated 10 humans a year.
"We are the monsters," he said.
Hector's mum, Jo Danilo, decided the speech was such a success it needed to be filmed. So, with brother Felix, 11, as cameraman/producer, the young environmentalist made a video and shared it on Greenpeace's Facebook page. The organisation is now using it in Shark Week, which runs until Sunday.
Dad Jan said: "Greenpeace asked if they could use it, and we thought that was awesome as."
Hector hoped the video would help end shark finning, which is still legal in New Zealand waters.
The brothers are planning a video on the plight of some of the world's most endangered marine mammals, New Zealand's Maui and Hector's dolphins.
* To see the video, go to The Northern Advocate Facebook page and scroll down until you find Hector on Shark Finning.