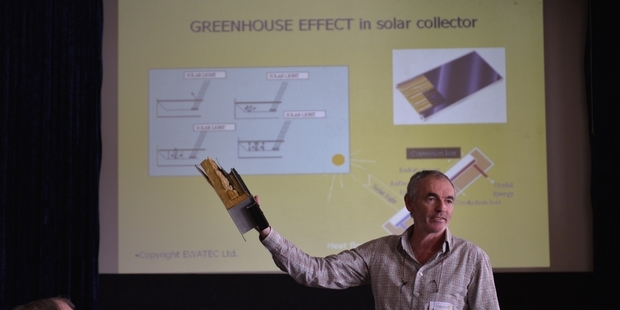 Energy efficiency, sustainability, solar energy solutions and a future energy plan for New Zealand were on the agenda at the Northland Solar Energy Conference at Kaiwaka.
More than 100 people attended the inaugural conference on Saturday, where speakers included solar energy proponents Eric Jansseune, Tony Dowsett and Jeroen Brand. Among the conference participants were architects, engineers, builders and technicians but the majority were homeowners looking for advice on how to reduce their increasing electricity bills.
Evaluation forms indicated people learned a great deal and appreciated the dialogue about energy efficiency and renewable energy in New Zealand, said the organisers, the Renewable Energy School of New Zealand (Resonz).
Resonz organised the conference with Transition Town Kaiwaka.
The Kaiwaka-based organisation due to open its doors in January will teach households, builders, architects and council workers about solar energy and the solar opportunities in New Zealand. The Northland Solar Energy Conference aimed at consumers was its first public event.