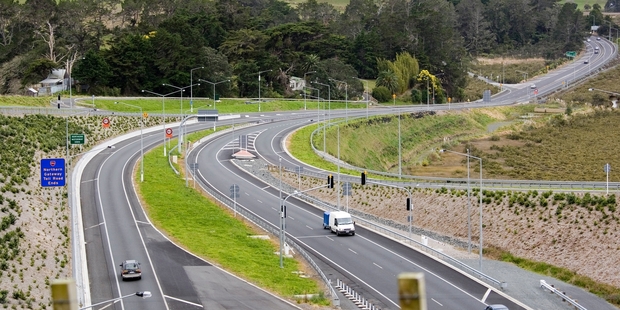 A starting block has been taken away on the 18.5-kilometre, four-lane motorway between Puhoi and Warkworth with construction tipped to start half way through next year.
Northland politicians are cheering the Environmental Protection Authority's approval of New Zealand Transport Agency's application to build the $760 million motorway extension.
They say the road is essential to Northland's growth.
Many critics have dubbed it a "holiday highway" for Aucklanders but the term has rankled Northland advocates.
"I find it offensive," Northland Regional Council (NRC) chairman Craig Brown said.
"The road is not about Aucklanders going on holiday, it is the life blood of Northland. It is absolutely essential for commerce between this region and the rest of New Zealand and beyond."
Mr Brown said the decision validated the NRC's inclusion of the Marsden Point rail corridor in its plans. The road would help open the door to expansion of port and rail development, enhanced tourism and industrial growth in Northland, he said.
The way forward - only to Warkworth at this stage - is still jammed with resource consents, property purchases and geological challenges, with the plans not open for public submissions until at least November.
The 18.5km first stage of the "road of national significance" the Government ultimately wants built to Wellsford will include 12 viaducts and bridges, and is expected to be finished in 2022.
NZTA said average daily traffic volumes south to Puhoi are forecast to increase from 17,400 vehicles to 25,000 by 2026, with an expected 51 per cent increase in freight movements alone to or from Northland by 2031.
"The Puhoi to Wellsford corridor has been identified as one of our most essential state highway routes to reduce congestion, improve safety and support economic growth in the Auckland and Northland regions," Transport Minister Gerry Brownlee said.
Whangarei MP Phil Heatley said the motorway, first proposed back in 2009, will be a key driver of economic growth for Northland.
"A massive consenting process, and property purchases, were always going to be the big hurdle to getting the road construction-ready and I'm pleased it's finally all under way," Mr Heatley said.
"The corridor will improve movement of freight and people between Auckland and Northland. And, yes, it brings tourists north. Every dollar our local businesses can squeeze out of an Aucklander is a great dollar."
NZTA highways manager Tommy Parker said the documents are available online "in the interests transparency": www.nzta.govt.nz/puhoi-to-warkworth-application.