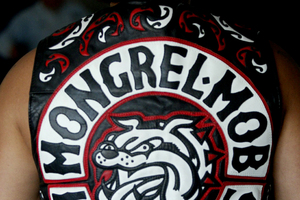 Gang members descended on the Far North en masse over the weekend but police say their visit was almost trouble-free with just one incident.
Sergeant Phil Le Comte, of Kerikeri police, said a large number of Mongrel Mob members attended an unveiling at Whirinaki in South Hokianga.
Members arrived from around the country on Thursday and Friday, staying at Te Tii in the Bay of Islands.
Mr Le Comte said overall the weekend went well thanks to positive liaison between police and gang hierarchy.
The only incident occurred on Friday afternoon when a 46-year-old Tauranga woman walked into a Clark Rd, Kerikeri, home unannounced and proceeded to abuse the occupants.
They retreated to the safety of their bedrooms while she helped herself to a computer monitor and left via the back fence. She was found shortly afterwards in a nearby carpark in an intoxicated and abusive state, he said.
She appeared in the Kaikohe District Court on Saturday and was remanded in custody.
At about the same time, a number of Tribesmen attended a tangi at Te Iringa, south of Kaikohe, for the wife of one of the gang's founding members in Northland. That gathering passed without incident.