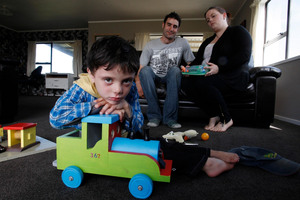 Asthma sufferers are not being taught how to effectively manage their illness, with hundreds of Northlanders being admitted to hospital each year.
Kazia Guy's four-year-old son Deandre has had multiple visits to Whangarei and Dargaville Hospital caused by asthma attacks.
The young boy's asthma can be set off by pollen, grass, dust and exercise, and often leaves him so short of breath he needs to take oral steroids or spend time breathing on a nebuliser in hospital.
Mrs Guy said she feels in the dark about her son's condition and medication.
"I've had to talk to other parents, and Google it, because the doctors don't make time to explain things to us," she said.
"People think asthma is just a little wheeze when really it is a life-threatening condition.
Deandre suffered an asthma attack and lost consciousness after a breeze blew grass clippings in his direction, leaving the family from Dargaville having to stay for two nights in Whangarei Hospital.
Mrs Guy said she has never been given a detailed demonstration about the correct way for her son to take the inhaler, something the Asthma Society has big concerns about.
Whangarei-based Asthma Society respiratory nurse educator Pearl Brown said the high rates of asthma were partly due to a lack of education for asthma sufferers.
Often people only used reliever inhalers instead of preventers which needed to be taken daily, as one missed dose would set treatment back two weeks.
"There's a bit of a gap because when they go to the doctor's they don't get taught [thoroughly] there so they go home with the medication and then by the time they come to us they might have ended up in hospital.
Mrs Guy said she is hoping to get her son on a preventer inhaler suitable for young children, which may reduce the amount of times he has to take oral steroids to manage his condition.
Nationwide, more than 800,000 asthma medicine prescriptions were issued in 2012, costing the Government more than $65 million. About 52 New Zealanders die from asthma every year, a figure the Asthma Foundation says is "unacceptably high".
Northland District Health Board had the thirteenth-highest asthma hospital admission rate of the country's 20 DHBs, according to 2011 Otago University figures, with 269 asthma-patient admissions.