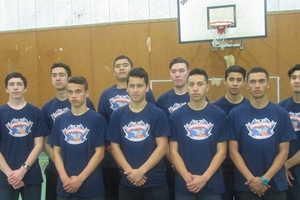 It seems to be the hope of many today, to be picked up on a sporting scholarship. This week the Bay of Islands' senior boys basketball team are putting their best foot forward in the national Zone 2 Secondary Schools Basketball tournament in Rotorua.
The team - made up of players from Bay College, Northland College, Okaihau College and Moerewa School - was selected from teams that competed in the Central Butchery Secondary Schools Competition held earlier this year at Bay of Islands College in Kawakawa.
The players also play individually for their various respective sides in the current Kaikohe senior competition at Northland College, and also make up the team regarded as hot favourites to take out the Hoopstars secondary schools competition currently being contested at the Bay Sports Complex in Waipapa.
Mid North Basketball Association development co-ordinator Mel Rameka said the tournament represented more than just a once-in-a-lifetime experience.
"It's an opportunity to see the actual level of ball played at their age at its highest and also offers a chance for the boys to be discovered," Rameka said. "And, at best, shoulder-tapped by other schools and offered scholarships. They will also take what they learn from this week bring it back and up the level of game in their area these reasons and more."
Rameka noted the team fundraised the $3000 needed for trip thanks to the help of the players' friends, families, teachers, schools and the awesome generosity of their communities.
"These people we can't thank enough," he said, adding special thanks to various local individuals, mostly the boys' whanau, the team's various sponsors and, in particular, coach Del Rameka and manager Chevonne Taylor for "all the awesome voluntary work they've put into the boys".
Following the completion of the Zone 2 which is being held at the Sportsdrome, Government Gardens until Saturday, the Peowhairangi side plans to return on Sunday via a few fun stop offs including to the luge, zorb and Waiwera hot pools.