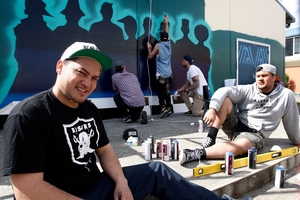 Current and ex-students are making their mark on Kamo High School in a massive mural celebrating the arts.
Three art students and five professional graffiti artists have been working at the school for three days on an approximate 55 squared metres mural.
Art teacher Davina Duke co-ordinated the massive job by reaching out to Aku Hita, founder of graffiti art crew The Risers and getting him on board. Ms Duke said she had been wanting to lift the school atmosphere, and show them that art is a career option.
"It's giving them extra opportunities, perhaps to come out of the classroom, and make them think perhaps there are more real-life opportunities out there."
She said having the students work with the artists has been very rewarding.
"These boys are in their mid-twenties and are role-modelling for the young kids."
This is the first mural at Kamo High School but Ms Duke said she believes it should be the first of more to come.
Mr Hita said the design has been lead by the students, who wanted to see imagery that represented what the building is used for, art, dance, music and Maori art.
"It's great to promote the art, rather than the graffiti, and to get it in schools is great."
Mr Hita said it was a great opportunity for three members of the crew to come back to their old high school and give something back to the art department, which shaped them as artists.
Abraham Sareet is doing NCEA level 2 art and he said it has been an awesome opportunity being part of the team working on the mural.
"We want it to change the perspective of what people think of graffiti," he said.
Year 13 student Liam Currie and Year 11 student Mana Sutherland also worked on the project, which saw them achieving NCEA credits in Maori art.