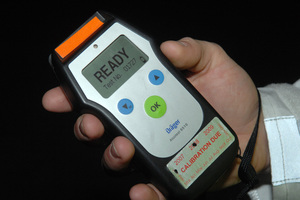 Drink-drivers nabbed in recent days in the Far North include one who forgot to dip his lights for an approaching police car and another who almost crashed into police in Paihia.
Kerikeri police Sergeant Phil Le Comte said officers were again kept busy dealing with a spate of drink-driving incidents, with some motorists drawing attention to themselves.
They included a 19-year-old Whangarei man who dazzled police with his lights on high beam on the Pakaraka straights just after midnight on Sunday. When breath tested he allegedly blew a reading of 724mcg of alcohol per litre of breath, earning himself an appearance in the Kaikohe District Court on September 17. The legal limit for teenage drivers is zero; for drivers aged 20 and over it is 400mcg.
About 10.30pm Sunday, police investigating a crash involving a Honda Civic and a tree on Goffe Drive, Haruru Falls, located the 17-year-old driver at a nearby home. He allegedly blew 517mcg so will face court on September 25 as well as the wrath of his father, who owns the car.
About 9pm last Wednesday, a police patrol car narrowly avoided crashing with a vehicle that pulled out into its path in central Paihia. The 34-year-old male driver from Haruru Falls blew a reading of 820mcg, more than double the limit. He will appear in Kaikohe District Court and had his licence suspended for 28 days.
A 45-year-old woman stopped at a checkpoint in Russell about 6.30pm on Friday had her children and the family pet in the car, yet allegedly blew 553mcg.
The highest reading of the weekend was blown by a 53-year-old Russell man who was stopped at the same checkpoint on Saturday afternoon. Mr Le Comte said he blew 887mcg and was charged with driving with excess breath alcohol for a third or subsequent time. He also had his licence suspended for 28 days.
Other alleged drink-drivers included a 29-year-old Kawakawa woman stopped just after midnight on Sunday at a checkpoint on Whiteman Rd (with 605mcg) and a 41-year-old Ruakaka truckie stopped on his way to Kerikeri at 1.30am on Saturday after a family barbecue (564mcg).