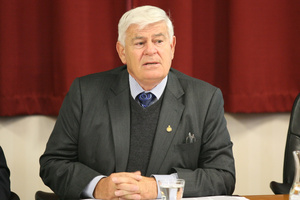 Northlanders will have to wait until next year to find out how the Local Government Commission plans to reshape councils in the Far North, Whangarei and Kaipara.
Commission members asked Northlanders for their views on council reform at public meetings in Kerikeri, Mangawhai, Maungaturoto, Dargaville, Paihia, Russell, Kaikohe, Rawene, Kaitaia and Whangarei.
The commission will consider that feedback, and the views of councils and iwi, then come up with a proposal. The main options are a single unitary authority for all of Northland; two unitary authorities based on the present Far North and Whangarei/Kaipara boundaries; and the status quo of three district councils with one overlapping regional council.
Chairman Basil Morrison told the Kerikeri meeting the commission could have had its proposal ready last week but had decided to wait until after the October 12 elections, in part to avoid voter confusion. He said that delay had "received the ire of one mayor in Northland", a reference to the Far North's Wayne Brown.
The commission hoped to release a draft plan for public feedback in late October or early November. The final proposal was likely to be ready by February.
If people were unhappy with the commission's decision, they could force a referendum by collecting signatures from 10 per cent of voters in any one of the three districts.
If the commission opted for a major change, a transitional plan would have to be approved by the Government and fresh elections would be held, possibly in 2015. The next elections could be held in 2019, making a term of four years and bringing Northland back into sync with the rest of the country.
Opinions at the public meetings were sharply divided. Some people worried that a single unitary authority for Northland would mean the Far North was saddled with Kaipara debt, or that the Far North's voice would be drowned out by much larger Whangarei; others worried the Far North was too small to go it alone.
The district councils are pushing for two unitary authorities based on the Far North and Whangarei/Kaipara boundaries. The Far North is also pushing for designated Maori seats but they would have to be implemented by the incoming council, not the commission.