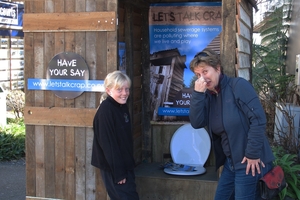 A multi-million dollar plan to expand Kerikeri's sewerage scheme is set to go ahead after winning the backing of 60 per cent of residents in key areas.
The expansion will start in the CBD and Riverview and may be expanded later to include other areas. An initial plan needs to be ready by September 30 or the council could miss out on a hefty government subsidy.
Kerikeri's growth has outstripped its infrastructure over the past 25 years so many streets and parts of the CBD still rely on septic tanks. Every time it rains sewage washes into the inlet from suburbs built on poorly draining soils such as Riverview.
Any expansion of the town's sewerage system will cost millions so an attention-grabbing campaign called "Let's Talk Crap" aimed to get feedback from as many ratepayers as possible. Dozens of toilet bowls, a talking dunny, a toilet paper mascot, free toilet rolls, leaflet drops and public meetings were used to get people talking about sewage.
A report presented to the August 22 council meeting said 670 people responded, about 10 per cent of affected ratepayers. While that does not sound high, it is double the usual response rate.
More than 650 people also voted for their preferred option by text message. However, 400 of those votes were counted as one because they came from the same person.
Ratepayers were asked to choose between (1) being responsible for their septic tanks, but to ever-higher standards; (2) paying the council to take over septic tank maintenance; and (3) hooking up to an expanded sewerage system ("flush and forget").
Overall 49 per cent of respondents in greater Kerikeri picked option 3, 44 per cent option 1, and 7 per cent option 2 or "other". However, within Kerikeri township, 60 per cent opted for option 3 and 33 per cent for option 1.
Support for reticulation was strong in the CBD, at 66 per cent, where streets such as Hone Heke Rd and Hawkins Cres still rely on septic tanks.
In Riverview the figure was 57 per cent. There some residents have already upgraded to expensive aerated treatment systems and were concerned about losing their investment if forced to connect to a council scheme.
Other areas keen to hook up included Waipapa Landing (69 per cent), Blacks Rd and lower Pa Rd.
The main concern expressed by ratepayers, especially those on fixed incomes, was cost. Some also questioned the council's cost estimates for the three options. People who had upgraded their septic tanks to more sophisticated aerated systems were worried about losing the hefty investment they had already made.
A committee made up of the mayor, deputy mayor and key staff will start hammering out the details in the coming days.
The project must be completed by the end of September 2015.
Over the next six to eight months the council would continue consulting in areas such as Reinga Rd where the survey results were less clear cut.
The likely costs will become clearer over the coming months.