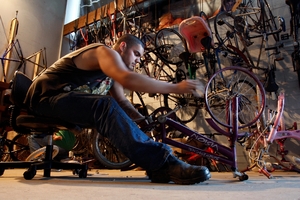 Bikes with rusty bars, dodgy brakes and squeaky wheels which sat unattended in sheds are getting a new lease on life.
Whare Bike is welcoming bikes of all shapes and sizes to their workshop, where they will be fixed, cleaned and done up, then passed on to a new owner.
Co-founder Ashley Holwell said dozens of bikes had been given away since the space was opened in January.
"We can teach people a bit about it, how to look after your own bike, and send them out with one they can use," he said.
The Whare is open on Thursdays from 4pm-8pm and Mr Holwell said three or four mechanics were always there to assist anyone who turned up.
While the mechanics were cycling enthusiasts, people from all walks of life visited to have a tinker on a bike and take one home.
"We get people coming by to make bike donations. We also get guys who can't afford their bus tickets any more.
We get schoolkids coming to have a look and we also get some old bike enthusiasts."
Mr Holwell hasn't had formal training as a bike mechanic, but received plenty of training at a "bike kitchen" in Vienna, where he came across the concept.
"There's heaps of them overseas, popping up in every city. It just seemed like an amazing and obvious idea."
Mr Holwell closed the Whare for a time in winter to give it a spring clean and expand the use of the space. He now has a coffee roaster on site, and is looking into how he could use the space for other groups.
"It's a bit of a pilot for how an unused warehouse can be transformed."
Phone Mr Holwell on 022 1517 305 if you can donate parts or tools.