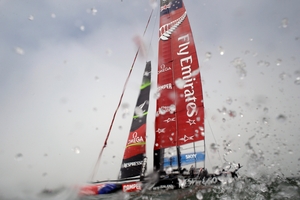 Legendary Northland sailing coach Derry Godbert is not sold on the idea that if New Zealand wins the America's Cup it will directly benefit local sailors.
With Team New Zealand wrapping up the Louis Vuitton Cup challenger series with a 7-1 margin, it now has a chance to bring the America's Cup back here if it is successful when the racing against Oracle Team USA begins on September 7.
Godbert believes the America's Cup is the sort of racing that only appeals to a certain type of sailor.
"I'm sort of in the middle of the road, but a very wide angle," Godbert said about whether there would be direct benefits.
"We've got ex-sailors from Kerikeri in the America's Cup, so we've got sailors who have started here and ended up there.
"But, getting there is such a long hop that it puts some people off, and switches some people on.
"In young people sailing now, a lot of them are sailing skiffs and 18-footers, which relate to the America's Cup with high speed, and then you've got others on the other end of the scale who tend to be switched off by the razzmatazz and money involved.
"We've done so well with the technology with a lesser budget than the other teams, which has got to reflect well on New Zealand, but a lot of amateur sailors I've spoken to say 'it's nothing to do with me because it's ultra-light weight fast sort of stuff and I prefer sailing my family keel boat'."
Godbert believed New Zealand's showing in the America's Cup was of benefit to our sailing reputation, much the same as Northland's sailing pedigree has given the region a name for producing top sailing.
However, Godbert said there was no secret behind why Northland, and Kerikeri in particular, produced so many strong sailing crews and individuals.
"I think there are two or three elements behind having a record for producing top sailors. We do very well up here mainly because we take our youngsters from an early age.
"We have big training squads in Kerikeri whereas most other schools around the country have small teams, up to 14."
This will be the fifth time since 1995 Team New Zealand have reached the America's Cup final. The only time they didn't make it in that stretch was in 2010, which was a one-off between Oracle and Switzerland's Alinghi following a bitter court fight.
Team New Zealand turned the recent challenger series into a no-contest. The closest margin between the Kiwis and Luna Rossa was 1min 28sec, with Luna Rossa's lone win coming when Team New Zealand dropped out because the electronics system that controls the hydraulics of their catamaran failed.