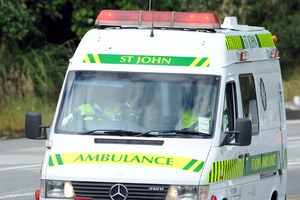 A toddler is in Auckland's Middlemore Hospital with severe facial injuries after a dog attack.
The 13-month-old girl was mauled by a staffordshire bull terrier at an address in Moerewa on Saturday.
She'd been sent to stay with her father's uncle and aunt while her mother celebrated her 21st birthday.
It's believed the dog got out of its cage in the backyard and mauled the child, who has had surgery at Middlemore Hospital in Auckland for facial injuries.
Her mother, who is at her daughter's bedside, said: "We're all in a state of shock."
The toddler's grandmother was distraught.
"It's somehow got out and ripped her cheek," she said. "It was just really lucky it's missed her eyes, nose and vital stuff."
The grandmother said, given her injuries, the girl was recovering well. A hospital spokeswoman said the child was in a stable condition on a Kidz First ward.
It's understood the family did not report the incident to police or animal control.
They claim the animal was shot and killed within an hour of the attack.
Police and Far North District Council animal control said on Monday they had not received a complaint.
Both would investigate after being made aware of the incident but police wanted to give the family time to deal with the child's injuries before assessing whether any criminal charges will be laid.
The girl's grandmother said she was outraged by the incident.
She had offered to look after the child at the weekend, but her daughter said the girl needed to get to know that her father's side of the family.
"She won't be going back there. "I'm completely shattered by what's happened," the Whangarei resident said.
She believes the owners should be charged by police and so does the child's great-grandfather.
"It's just about ripped her face off," he said.
"Someone needs to be made accountable.
"I like dogs but there's no need to have these monstrous creatures." APNZ