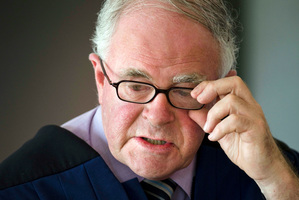 Northland is bucking the national trend of fewer people taking their lives.
Ministry of Justice coronial court figures from June 2012 to June 2013 show 34 confirmed suicides in Northland, compared with 26 the year before. Nationwide, the number of suicides in that period was 541, six fewer than the previous year but still representing more than 12 people per 100,000 population.
Chief Coroner Neil MacLean released provisional figures yesterday which show young Maori men are still represented more than any other group.
However, Northland District Health Board chief executive Nick Chamberlain said there were signs of a shifting trend in 2013. The statistics did not reflect a big drop in Northland suicides between January and June, he said.
"It is very pleasing to report a 50 per cent drop in the suicide rate for Northland [in that time]. Of the 34 suicides in the last 12 months, two-thirds occurred in 2012," Dr Chamberlain said. "We are really pleased to be tracking downwards, particularly for Maori."
The decrease in Maori suicides in Northland was greatest in the past six months, with two compared to 10 in the last half of 2012.
Dr Chamberlain said Northland's response to the suicide problem had included establishing the multi-agency Social Well Being governance group and various whanau and youth resilience projects.
Judge MacLean described the number of suicides as "stubbornly consistent" but said there were some positive trends, including the number of Maori suicides dropping for the first time since records began in 2007.
That total of 105 was significantly down from the previous year's record spike of 132, but still one above the average of 104 in the past six years. Seventy-two Maori suicides were men compared with 94 the previous year, and 33 were women compared with 38.
There was an overall rise in women dying by suicide: 153 compared with 142 the previous year.
Teen and pre-teen deaths were also down. In the 10-19 year age group 69 young people took their lives, compared to 91 the year before.
Figures released earlier this year indicated there were 39 suspected suicides in Northland in 2012, including cases waiting to be heard and ruled on by the coroner.
Of those, three involved youngsters aged 10-15; 12 were 15-19 and five 20-24, 19 were Maori and 27 were males.