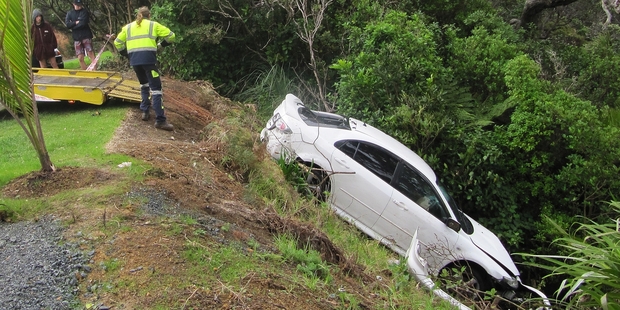 Northland police are investigating how a stolen car plunged 35 metres down a steep bank near a popular Northland beach.
The car was discovered by a woman walking her dog near a carpark overlooking Whale Bay on the Tutukaka Coast about 8.30am yesterday. She called emergency services.
Police said the vehicle was owned by an Aucklander but was being used by a family member in Matapouri where it was stolen on Saturday night.
Firefighters from Ngunguru, St John paramedics, police and a helicopter crew were baffled by the discovery of the car, which had crashed through native bush, from the carpark on Matapouri Rd, before coming to a rest about 35 metres down the steep slope. It stopped short of landing in the picturesque Whale Bay, 35km northeast of Whangarei.
Ngunguru fire chief Richard Hodder said his crew went down the slope to check the car but did not find anybody inside.
"It (the accident) possibly happened during the night because the car's engine was cold when we got there and later checked to make sure no one was inside," he said.
Mr Hodder said firefighters also checked surrounding areas, including the beach, but could not find anyone who may have been in the car before it crashed or knew anything about the accident.
Whangarei police Sergeant Russell Windle said there could be several possibilities as to how the car ended up down the slope.
"It could have been pushed down or the hand brake could have failed. We won't know until the driver is spoken to," he said.
A Northland Emergency Services Trust helicopter was dispatched to Whale Bay and after a search through thick bush and nearby areas flew back to its base in Whangarei.
Late yesterday, officer in charge Sergeant Gavin Cyprian confirmed the car owner contacted police to report the vehicle had been stolen from a Matapouri home on Saturday.
"Everything suggests the car was pushed down rather being driven," Mr Cyprian said. The car was being examined to see if DNA could be retrieved to progress investigations further.
The car was winched up by a tow truck operator about 1.15pm yesterday. It had sustained extensive damage and the windscreen was smashed as a result of the impact.
A small crowd of locals walking their dog gathered in drizzly conditions to watch the tow-away operation.
Whale Bay is renowned for its white sand and is frequented by swimmers, snorkellers, picnickers and people walking their dogs, accessing the beach from the carpark through groves of ancient trees or from Matapouri Bay.