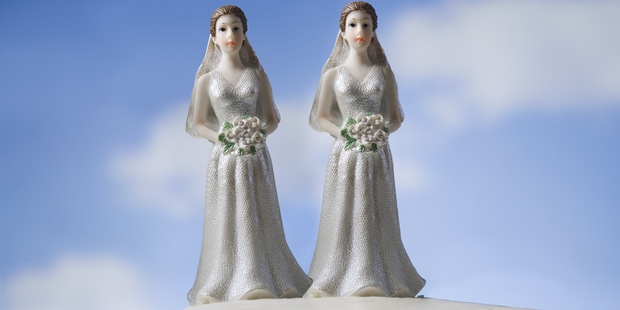 A day-old law allowing gay couples to marry in New Zealand is a great opportunity to lure the pink dollar to Northland, tourism operators say.
Paihia couple Rachel Briscoe and Jess Ivess were among the first same-sex couples in the country to wed when they tied the knot at Rotorua Museum yesterday, after winning a national radio competition.
The historic event was followed closely by Northland's gay community, including Gay in the Bay member Anita Jakich, who owns Kerikeri catering firm Neat Eats with partner Jan Chipman.
"We're really very excited. We talk about it [the right to marry] all the time, and we all think it's wonderful."
The new law was a chance to promote Kerikeri and the Bay of Islands as a gay wedding destination, both to overseas tourists and New Zealanders looking for a romantic, scenic location. Neat Eats was working with bed-and-breakfasts and "gay stays" to promote the area, which they were calling the Gay of Islands.
"It's extremely gay-friendly here, for a start. Friends who come to Northland can't believe how accepting the locals are, and how much fun the gay community is."
Ms Jakich said an Australian couple had already travelled to New Zealand for a civil union at Kerikeri's Moon Gate Villa, and the lure would be much greater now they could marry. Same-sex marriages are not legal in Australia.
Ms Briscoe's workmates at Fullers GreatSights got together at a Paihia hotel yesterday morning to watch the ceremony live on TV, general manager Charles Parker said.
"Everyone's been very supportive of Rachel. We're all backing her and it's partly through that support that she won the competition."
Mr Parker said the Bay was an ideal wedding destination and he welcomed anything that encouraged more people to wed there. International weddings were especially good because the guests were often first-time visitors who tried more activities and stayed longer.
Michael Hooper, who owns Orongo Bay Homestead near Russell with his partner Chris Swanell, said the Bay had a lot to offer as a wedding destination and - as Ms Briscoe and Ms Ivess had shown - was "not afraid to get out there and lead the way".
However, gay tourism faced the same challenges as any other tourism sector in Northland, in particular the lack of direct overseas flights. Until that was resolved it would be hard to compete with the likes of Queenstown and Rotorua.
"If we're really going to get the benefits from this, we need to take tourism as a whole more seriously," he said.
Yesterday's flurry of gay weddings has received wide media coverage in Australia.