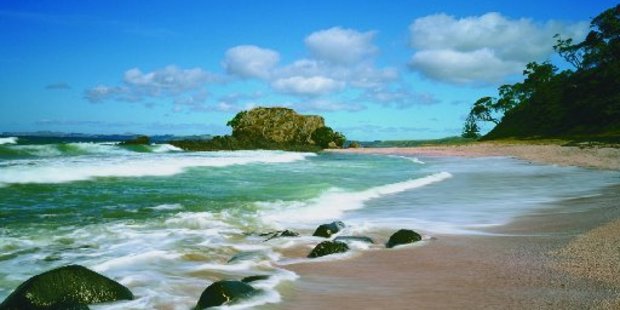 It is the man himself not Tom Cruise's ghost haunting the Bay of Islands, although he regularly falls off Kauri Cliffs and "dies".
Soon the Hollywood movie star might have his own cliffs to (mythically) fall off. Cruise has recently been seen cruising the Far North coastal property market, the whisper on the street that he has an eye on buying a small island.
Cruise's latest visit was just prior to him taking a spin on San Francisco Bay on Team NZ's America's Cup racer, AC72, along with his son Connor.
It's no secret the A-lister is fond of the Far North, with holiday destinations including Eagles Nest, near Russell, in the past. He's one of several famous entertainers whose names have been associated with that luxury resort, along with Kauri Cliffs and Cavalli Island Retreat and Spa.
Famous entertainers who reportedly already own bolt holes in the Bay of Islands include Cher, Neil Diamond and Shania Twain.
In the past 18 months visitors to these luxury shores include Susan Sarandon, George Clooney, Brad Pitt and Johnny Depp.
One person in the business of minding the rich and famous when they drop by told the Advocate we were close to the mark regarding the Cruise news - but, as with every high end realtor, retreat owner, tourism operator and wine pourer we asked, not another tiny morsel of information would pass his lips and his own name was not for publication.
"It's one of the reasons the stars come here," one star-minder said. "They can rely on our discretion and they don't get paparazzied. Those things are priceless even for incredibly wealthy clients."
Luxury real estate mover Charlie Brendon-Cook said he would never divulge clients' names but he regularly dealt with the rich and famous as well as the rich and unknown. "I'm not going to be drawn on who we're dealing with, but it's no secret those kind of buyers are around," Mr Brendon-Cook said.
Back to Cruise and Kauri Cliffs, it is indisputably the location of choice for fictitious film-star and rock star deaths. Social media has had Cruise tumbling over the bluff several times since 2008. The cliffs have also supposedly claimed Tom Hanks, Jeff Goldblum, Orlando Bloom, our own Robyn Malcolm, and others.