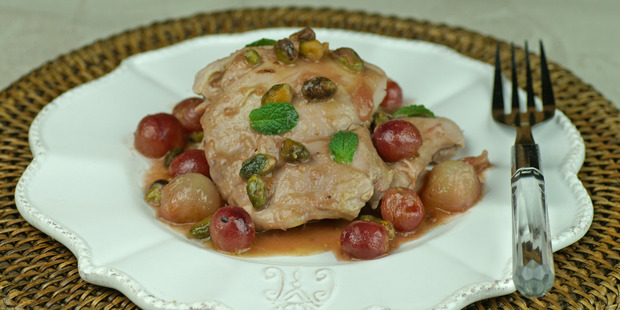 "If more of us valued food and cheer and song above hoarded gold, it would be a merrier world."
J.R.R. Tolkien
And judging by the thousands of foodies enjoying the recent Auckland Food Show, this quote was certainly being heeded.
Numerous food lovers had hired small wheelie bin-type trollies in which to stack their discoveries. The many new products appealed to me, from make-your-own meringue towers - to be released in supermarkets before Christmas - to the edible blooms delivered nationwide - and West Indian spices. Jamaican cuisine is derived from an ethnic mix of settlers and is characterised by spices, piquant flavours and smoky aromas. Jamaican jerk cooking is an example. When David Phillips and his family emigrated from Jamaica eight years ago to enjoy life in Nelson they missed the spices and sauces used in their traditional cooking. Now the family's West Indies Spice Traders company imports and distributes an enticing range of Jamaican delights for Kiwis to enjoy (www.windiestrading.com).
Donald Montes from Taste Greece assured me that their Greek olive oil "is not blended or chemically treated for acidity like many other imported olive oils currently available in New Zealand. Greece has been producing olive oil for at least 3000 years. Some of the olive trees are over 2000 years old." Taste Greece olives are plump and juicy and the saffron they import is organic. Check out www.tastegreece.co.nz.
Greenmeadows pure-bred Angus beef is farmed on 170ha south of Opunake in coastal Taranaki. The Carey family's animals graze on grass brushed with salt air, giving the meat its outstanding flavour, colour and texture. Order online and the Careys will ensure their special boxes of beef reach you on the day requested. (www.greenmeadowsbeef. co.nz)
Established by a Japanese couple in Nelson, Urban Hippie Miso paste is the only handmade miso in New Zealand and is prepared from local and imported ingredients: soy beans from Motueka, natural sea salt from Blenheim, rice and koji (a type of culture for making sake). The rice imported from the US is GM-free. The miso is fermented for over six months and is unpasteurised. Use this nutrient-dense miso in soups, sauces and dressings or with vegetables or meats. Urban Hippie miso is available from selected food stores, delis and Asian stores (www.miso.co.nz).
RECIPES
MISO CHICKEN
Marinade: 4 Tbsp (80g) Urban Hippie Miso Paste
3 Tbsp finely grated root ginger
4 Tbsp each: mirin, lemon juice
Chicken: 8 skinned and boned chicken thighs
12 small shallots, peeled
1 Tbsp rice bran oil
3/4 cup rose wine or medium white wine
Flaky sea salt and freshly ground black pepper to taste
1/2 cup shelled pistachio nuts
50g butter, diced
2 Tbsp honey
1 cup small seedless red grapes
Whisk together marinade ingredients.
Place chicken in a plastic bag. Add marinade. Move chicken around until well coated. Seal and marinate in the refrigerator for at least 4 hours or overnight.
Place shallots in a saucepan with water to cover. Simmer for 5 minutes. Drain and cool.
Return the chicken to room temperature. Place on a rack, brush with marinade and cook under a preheated grill for about 3 minutes each side.
Meanwhile, heat oil in a frying pan large enough to take the chicken. Add the shallots and saute until coloured. Add wine and seasonings and simmer for 2-3 minutes.
Add the chicken and any remaining marinade to the pan. Cover and simmer for 3-4 minutes, until cooked. Remove to a warm platter.
Add the nuts, butter, honey and grapes to the pan and simmer, stirring, for 2 minutes. Serve over the chicken.
Serves 4.
POACHED PRAWNS WITH SAFFRON AIOLI
Poached Prawns: 2 cups water
Bunch fresh herbs
2 cloves garlic, crushed
1 Tbsp sugar
24 large raw prawns, peeled and deveined
Saffron Aioli: 2 pinches saffron threads
1 Tbsp hot water
2 egg yolks
1 clove garlic, crushed
1 1/2 Tbsp lemon juice
1 cup extra virgin olive oil
Salt and pepper to taste
Place water in a frying pan. Add herbs, garlic and sugar and bring to the boil. Add the prawns and remove from the heat.
Stand until pink and cooked. Drain, refresh in icy water, then chill.
To make aioli, combine saffron and hot water in a small bowl. Stand for 10 minutes. Place egg yolks and garlic and lemon juice in a food processor or blender.
Mix until frothy.
With the motor running slowly add the oil, a tablespoon at a time, initially building up to a thin stream once the mixture emulsifies.
Slowly add the saffron and water and mix until smooth. Season. Cover and chill.
Serve aioli in the centre of a platter surrounded by the prawns. Serves 8 as a nibble with drinks.
JERK PATTIES
Jerk is an age-old Caribbean practice used to cure meat with a mixture of spices - including the extremely hot Scotch bonnet chilli pepper - then grilling slowly over wood. I've taken the liberty of fast-forwarding the flavour by using a jerk sauce.
500g minced pork or chicken
2-3 Tbsp Walkerswood Hot & Spicy Jamaican Jerk Sauce
1/2 cup finely chopped coriander
1 Tbsp brown sugar
Squeeze lemon juice
Salt and pepper to taste
Olive oil
Extra Jamaican jerk sauce to serve
Combine minced meat with the jerk sauce, coriander, brown sugar, lemon juice, salt and pepper. Form into walnut-size balls. Place on a baking try and press into flat patties.
Cover and chill until ready to cook. Return to room temperature before cooking.
Either barbecue for about 3-4 minutes each side or cook in an oven at 220C for about 10 minutes, turning once.
Serve drizzled with the extra jerk sauce as a nibble with drinks, as a starter or as a main. Makes about 20.
SLOW-COOKED BEEF RUMP WITH FENNEL & OLIVES
900g-1kg Green Meadows beef rump roast
3 cloves garlic, crushed
1 Tbsp each: thyme leaves, chopped rosemary leaves
Flaky sea salt and freshly ground back pepper to taste
1 each: large shallot, carrot, diced
1 medium bulb fennel, sliced
12 pitted Kalamata olives
1 cup good beef stock
Ensure beef is at room temperature before cooking. Wipe dry.
Combine the garlic, thyme, rosemary, salt and pepper and rub over the meat.
Place the vegetables on the base of a slow cooker. Rest the meat on top.
Add the stock and place the lid on the cooker.
Turn the temperature to low and cook for 4-5 hours. Serves 4-6.