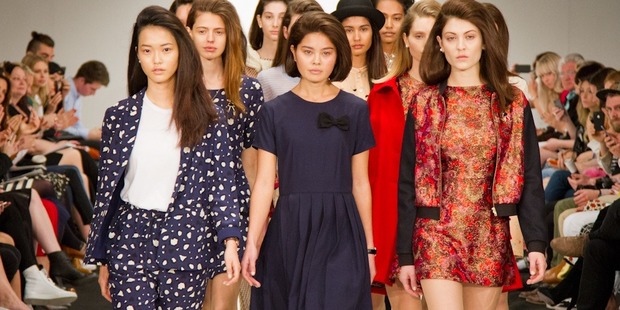 New Zealand Fashion Week wrapped up on Thursday night with a display of sheer brilliance by Perth-based Hawke's Bay brand Salasai. The crowd gathered in a New York-style loft space in Ponsonby, with drinks and cake, to see just 12 looks walk down the makeshift runway.
With styling by Dan Ahwa, it was a beautifully edited, succinct collection that featured nine womenswear and three menswear looks. A palette of black, grey, camel, peach and gold, with a few pops of red in a gorgeous flora/fauna oriental print, it was both edgy and classic.
Textures added depth, in the form of leather pants, ostrich feather collars and a gold brocade. Highlights included a printed shirt and pant, styled to look like a jumpsuit, a printed silk bomber (the best of the week, in fact) and beautifully fit pair of cropped harem pants.
Designer Kirsha Whitcher has developed a real skill for creating clothes that can be dressed up or down, with casual garments in luxurious fabrics, and this collection is no different. The show was short, sharp, to the point but left the entire audience excited about the collection and wanting more, which is exactly what a fashion week show should do. It was the best possible way to end another year of fashion week.
Day three: 5.48pm This afternoon has been an explosion of colour down the runways. From fashion week's first swimwear show featuring Wellington brand Surface Too Deep and Australian label Tigerlily, to Pia Boutique's first solo show, it was certainly not winter collections we were viewing!
Surface Too Deep have carved out a niche in creating swimwear for all body shapes and as a result have garnered a strong band of loyal followers.
The collection we saw this afternoon had all the classic Surface Too Deep styles, in updated colourways and prints to match international trends. With delicate florals in pale blues and peachy pinks, along with standard black, it was a collection that left me yearning for long, hot summer days. Designer Sarah-Jane Abraham's pieces are feminine and lady-like, but designed to support and flatter the female form. Surface Too Deep has me excited about putting on a pair of togs for the first time.
Tigerlily's range was Aztec-inspired, in both prints and knit over-pieces. With tribal prints, paisley and a stand-out leopard print, it had a real Californian bohemia vibe.
Auckland brand Pia Boutique has shown at fashion week before, but as part of group shows. Her solo debut was opened with a stunning song by Melbourne-based Aucklander, Esther Stephens, previously of Go Girls fame. Stephens is an avid supporter of Pia Boutique, regularly wearing their garments during stage performances, so it was a fitting start.
What followed can only be described as an explosion of colour - every shade of pink, from blush to peach to neon, through orange to turquoise and cobalt on a base of white, it was a riot. Trained as a graphic designer, Pia Naera is a master at mixing colours and prints and this collection was no different. While it largely consisted of similar shapes and styles to what we've seen previously, there was also the addition of more fitted shift dresses and a standout full-length dress that was beauitfully cut and draped. Given she's not trained in cutting and designing clothes, Naera has come a long way. If she can continue to push herself and develop, she'll no doubt go far.
Day three: 2.48pm Each year the New Generation show is one I look forward to as it showcases up-and-coming designers from across the country. This year there were only three labels showing, each with a distinct personality and style. Knitwear brand Beverley Riverina showed woollen pieces that ranged from a tailored jacket and pencil skirt to Sherpa-like menswear cardigans. In various shades of brown and cream, it was intriguing and homely.
In complete contrast, Nara Paz showed glamourous evening-wear, in both cocktail and full-length dresses. With superb cuts and tailoring, it had a European feel to it. New Zealand doesn't have a great deal of designers in that corner of the market, so with skills like she showed, I've no doubt Paz will go far. The personal highlight for me was a form-fitting, full-length backless black gown with leather detailing at the shoulders. It was simple and striking, perfect for black tie events.
Last up was Mount Maunganui's Crooked Seven, which was easily the stand-out of the show. With a typical Mount ease to it, designer Alexis Komene pulled together a coherent collection of easy-to-wear dresses, tops and pants. With a beautiful geometric blue and black print, along with sheer and oaque blues, blacks and just a splash of tomato red, I imagine it will sell very well. She has a knack for draping, shown best in the sheer, blue maxi dress that immediately evoked thoughts of summer walks along the beach. But don't worry, there were also a few well-cut woollen coats to remind you it was a winter collection. Komene also won the People's Choice Award, with a prize of $5000 from show sponsor BMW, and it was easy to see why. I look forward to seeing how she develops her brand in future.
Day three: 1.38pm Day three of New Zealand Fashion Week started as a much more subdued affair, with a series of group shows, largely from up-and-coming designers.
The morning started with a show by a collection of emerging designers, hosted by website NZFD. There were two or three real standouts in this show - Masterton brand My Boyfriend's Back, Wellington's Millicent and Hawke's Bay's Love Hotel.
My Boyfriend's Back showed a dreamy, romantic collection of draped dresses in sheer silks and lace, anchored with navy tartan capes and jackets. The use of more structured garments by designer Danielle Burkhart showed a confidence that was refreshing to see. While she has always created beautifully draped dresses, it's always refreshing to see a designer pushing themselves to new limits, instead of resting on their tried and true laurels.
Wellington brand Millicent's collection was memorable for its contrasting use of leather and bold, romantic florals. With pops of teal against the darker blacks and burgundy, her leather pieces were the real standout - with wide belts and a pair of skinny black pants that were so well-fitted they could have been sprayed on. It was romantic and feminine with a rock n roll edge.
Meanwhile Hawke's Bay's Love Hotel showed a collection that was true to their essence, but introduced some much-needed structure. Largely comprised of floaty silk shirts, negligees and kimonos, it was the contrasting black structured pieces that really stood out for me - a schoolgirl-like pinafore dress and a beautifully cut pair of dungaree culottes. They stuck to their usual palette of black and white, with just a hint of blush pink to add a soft, feminine element. It had a French ease and chicness to it that was a delight to watch, though I do wonder if it was actually warm enough to be a winter collection. I mean, Hawke's Bay is warm, but not that warm!
Next up we were treated to a dramatic show from Auckland designer Daniel K. Designer Vanessa Kim debuted as part of the New Generation show last year, so it was great to see her back showing solo this year. She has come a long way in that time, building confidence in her tailoring skills and sending out a collection that was expertly created. With precisely fitted wool suiting and extremely covetable knitwear, it added a sense of drama that had been missing from the young designers showing on-site this year. Styled by Mino Kim of street style blog Four Eyes (no relation!) it was effortlessly chic with a decent smattering of sultry va-va-voom, courtesy of cut-outs on the tailored pieces and beautifully draped silk.

Day two: 10.17pm It's fair to say Stolen Girlfriends Club have a cult-like following. The audiences at their fashion week shows are certainly proof of it. A rainy, cold night couldn't keep the massive crowd of worshippers away from seeing the autumn/winter 2014 collection, titled Dark Magic. Tonight we were kneeling at the altar of a 90s grunge/punk vibe, with an abundance of tartan, in various weights, and velvet, safety pins galore and lots of leather to tie it all together. With black lace and sheer, lightweight fabrics as well, it felt a little bit like sitting down to watch Shannon Doherty and Alyssa Milano in Charmed with your grungey, punky high school boyfriend.
While it wasn't hugely revolutionary, it was a consistent continuation of their 90s surfer-inspired summer collection and was hugely wearable. In many ways it was a 2014 take on their tried and true classics from previous collections. SGC know what their faithful love and that is exactly what they delivered this evening. All that was left to do was watch the 800 followers exit the church with their spirits lifted and beliefs reaffirmed.
Day two: 4.45pm It's always refreshing when the working fashion week industry types get a chance to head off-site and experience a show that is more than models stomping down a runway and Wednesday's afternoon's Underground installation was just that. The brainchild of stylist and Ciel PR director Chris Lorimer, Underground was an exhibition of sorts in the underground car park of the Sofitel hotel, featuring a collection of edgier, alternative brands.
There was one, large-scale photograph from each the brands taking part, taken by an up-and-coming photographer, at the entrance. Further inside, it was best described as Andy Warhol's Factory crossed with an industrial nightclub. It was conceptual, avant garde and certainly pushed the boundaries of what fashion week normally does. Each brand had a silver-lined room of sorts, in which they had one model in an environment of their own making. From the dark, candle-filled living room of Maaike, to the glitter-bombed Jimmy D, to sculptural paper dresses by Otsu, it had something for everyone.
It was also a great chance to mix and mingle, have a bit of down time and chat to the designers involved. I think my favourite part of these type of shows is that you can absorb it all at your own pace and make of it what you will. It encourages creativity from the designers and that ability to think outside the square is the beating heart of this industry.
Hamilton label Nyne celebrated their ninth birthday by showing at fashion week for the second time with a collection inspired by wandering nomads.
It was a beautifully crafted show, with live music, a smoke machine and exquisitely cut garments. Nyne have carved out a niche for garments that are both contemporary and classic. With beautiful, simple draping that somehow retained its clean lines, they create deceptively simple silhouettes that are both flattering and edgy.
With a great mix of lightweight fabrics with knitwear and leathers, the outfits were layered without being bulky. Their tailored suiting was a particularly strong point, with blazers that will truly go the hard yards. These are pieces you will turn to time and again.
This was a show that left me excited, inspired and wanting more. I can't wait to see what the next nine years hold.

Day two: 2.15pm Deryn Schmidt opened day two with a delicious selection of beautifully tailored suiting with just a hint of glam. For the past three years, Dannevirke-raised Schmidt has shown the most impeccable pants at fashion week and this year was no different. Every single pair fit the models like a glove.
With an eye for feminine details and crisp, clean cuts, Schmidt can nail tailoring like no other. Her jackets are also covetable, always a favourite with the presenters at TV3.
The colours in her collection, titled Capture This, ranged from blush pinks and peaches through to burgundy and chocolate brown. There was also a good dose of both gold and black to up the ante from daywear to night.
Schmidt is not afraid to add detail, whether it be through exposed zips or sequins, but never takes it too far. The layered textures in her pieces add a delicious sense of depth without veering into costume territory. Her measured approach means her collections appeal to a wide range of women, something which holds her business in good stead for future.
Personal highlights included the herringbone wool jackets (especially the one with matte sequin cuffs) and, of course, her signature velvet pants. Every woman should own a pair.
Day two: 9.45am Zambesi closed day one with a bang. As usual, they didn't follow the rules at all and created a show that was both unexpected and delightful. They opened up the entire back section of the runway so the audience could see backstage and watch the models as they dressed, had final touch-ups of their hair, makeup and outfits and generally just did their jobs. It was both refreshing and inspiring to see "behind the curtain".
Zambesi's collection was a fresh, clean take, with simple lines, sharp tailoring and a slightly pilgrim vibe. Gone were the black georgette silks and flowing silhouettes of previous seasons. The colour palette consisted of charcoal, khaki, sandy browns and dusky pale blue, along with an explosion of big, bold red.
There was leather layered with chunky woollen knits and heavy cotton suiting. There was also an amazing green leather motorcycle jacket that will undoubtedly be on everyone's wish list come next winter.
After a mixed bag day of great hits (and a few great misses), Zambesi's show was the perfect reminder of why I love this industry. Watching menswear designer Dayne Johnston joking with models backstage as he put the finishing touches on their looks showed exactly what it takes to survive 30 years in fashion - strong vision, an independent spirit, almost OCD-like attention to detail and, most importantly, the ability to not take oneself too seriously. It is all these factors which make Zambesi what it is and allow them to produce one of the slickest shows of fashion week year after year. Inspiring stuff.
Day one:
7.07pm
Andrea Moore showed a collection that is best described as an explosion of colour and print. While Moore has always used strong colour, this collection was particularly bright. Thankfully all the colour was balanced in its use for impeccably tailored garments. Her clothes are always a fantastic fit - flattering, feminine and easy to wear in a variety of situations, from the office to drinks to formal events. This collection ticked all those boxes.
The collection meandered through a Nordic forest, with harnesses worn over tailored dresses, before hitting the Northern Lights, where the colour palette inspiration became clear - from purples and pinks to bright orange and acid yellow. Moore is known for her bold use of colour and this collection is certainly typical in that sense.
Styled by Marina Monroe, of Los Angeles' boutique Stylehaus, it didn't quite measure up to the high bar set by last year's show, however it was a strong collection that will no doubt be popular with Moore's loyal customer base.
Adrian Hailwood showed a slightly disjointed collection that featured denim jeans and jackets, cropped bomber jackets, his trademark graphic printed tees and sweatshirts and a sweet selection of cocktail and evening dresses.
His ladylike 'tea party' dresses followed on from previous collections, while the bird print was a personal highlight. Hailwood's background as a graphic designer really shows when he puts his hand to printed tees and sweatshirts. They are always the strongest pieces in any collection. The tailored pieces in this collection - wool suiting, a navy tuxedo jacket and form-fitting dresses - are designed to flatter the female form and for the most part they do just that.
While I personally felt the collection could perhaps have used a slightly stronger edit in the styling process to produce a more cohesive show, the murmurs of delight from invited guests around me suggested it's a collection that will keep his followers more than happy.
Day one:
5.20pm
Dunedin-based Company of Strangers returned to NZFW this year after a very memorable debut last year. Showing in the basement carpark of the Sofitel hotel instantly set a gritty, industrial atmosphere which perfectly complemented the collection of silks, wool and panelled leather. Designer Sara Aspinall has continued to create garments that take advantage of her best skills - impeccable tailoring and beautiful draping offset by the grungey use of zips, belts and the tall, wedge boot, which is an exclusive collaboration between Company of Strangers and Mount Maunganui shoe brand Chaos & Harmony.
Styled by Charlotte Rust, it was a well-edited, cohesive collection that drew its inspiration from Austrian painter Egon Schiele. Highlights included woollen vests, jackets and capes, georgette silk with contrast leather panels and a cropped leather jacket, that will undoubtedly be on everyone's wish list come next winter. There were plenty of classic Company of Strangers pieces, in new colourways, along with a few new pieces. There was more colour than you'd assume from a Dunedin brand, with lots of variations on similar tones - khaki, raspberry, mustard yellow and a black and white print against a base of solid blacks and winter whites. There was also a great balance of knitwear, in the form of soft, slouchy sweaters and dresses, to ward off the cold.
It was an even stronger collection than we saw last year, cementing Aspinall as a designer to keep an eye on in future.
Day one:
3.30pm
To call Lela Jacobs' fashion week debut simply a show would not do it justice. With a live guitarist and sample deck and a bass line that rattled the ribcage, it featured slow-moving, monk-like androgynous models with frizzed out hair and boxy hats. It was one part calm, one part visceral, one part raw.
Titled De, a play on the prefix, garments had the word "decentraliz" printed on them. It evoked a feeling of returning to simpler way of life, to hand-made, locally produced, one-off garments. The collection succinctly and expertly told a story, drawing you in and making you think.
Jacobs' has a talent for draping and the silk capes and tunics floating down the runway were a perfect example. Inspired by traditional kimonos where individual sections of garments are held together by a few anchor stitches, every detail was considered. Jacobs focuses on not wasting anything, turning mistakes into things of beauty and embracing all parts of the production process.
From the hand-frayed edges, to the inside-out patchwork vintage leather capelet, everything felt natural and organic in its form. It was deconstructed and dark, but with a lightness to it. The garments had a tactile element, making you want to reach out and touch them, feel their form, their weight (or lack thereof).
Once the final model had left the runway, there was only a smattering of claps, not because it wasn't a great show, but because such a sense of calm energy has settled over the room it didn't feel right to clap. For a first-timer, Jacobs has proved herself more than just a designer - she is an artist.
Day one:
12.13pm
If you'd told me a week ago that Mariah Carey's 1995 hit Fantasy would open New Zealand Fashion Week this year, I'd have laughed... That is until I realised Wellington brand twenty-seven names were the first down the runway this year.
Designers Anjali Stewart and Rachel Easting are known for their love of hip-hop and fine art.
Their autumn/winter 2014 collection, titled I'm Lost, takes its inspiration from Belgian surrealist artist Rene Magritte with a palette of navy, red, gold and tan.
With delicious custom prints, including a gold-on-navy heart print and a red/gold dust almost-brocade, broken up with Breton stripes, it was a more mature collection than we've seen in the past. It had a french sensibility to it, with cleaner lines and even a boucle-style jacket (for those who love their bomber jackets but want something a little more refined).
There were cute shift dresses and simple tops that could easily be worn to the office, or wee shorts for weekends at the beach.
Being a winter collection, there was also a smattering of beautifully cut woollen trench and peacoats in red and navy, alongside cable knit jerseys and cashmere sweaters.
But despite the overall feeling being more grown-up, it still had the trademark twenty-seven names sense of fun with wee walking bowler hat brooches and frill-topped socks. It was altogether twenty-seven names at a new, refined level that will appeal to a broader customer base.
Follow Rosie Dawson-Hewes on Twitter and Instagram