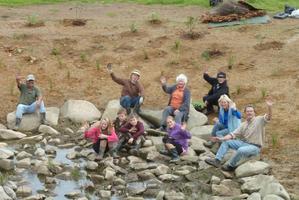 Work has begun at last on a park in Kawakawa dedicated to the late Austrian artist Friedensreich Hundertwasser.
The Kawakawa Hundertwasser Park is being created on council-owned land, at the rear of the artist's world-famous toilets.
The first plantings took place on February 19, the anniversary of Hundertwasser's death, following earthworks by Okaihau company Rintoul Civil.
Three people who played important roles in Hundertwasser's life in the Far North were chosen for the honour of planting the first trees. Noma Shepherd, wife of the late Doug Shepherd, farm manager on Hundertwasser's Kaurinui property in the Waikare Inlet, planted a liquidamber, while close friend Thomas Lauterbach, an artist based at Rawhiti, chose a gingko tree.
Kevin Prime, who carved a tokotoko presented to Hundertwasser during the blessing of the toilet in December 1999, could not attend so his brother Reverend Jim Prime and his wife Sarah planted a kauri.
The project has been planned for many years, so Mrs Shepherd said it was exciting to see the park finally starting to take shape.
The next step would involve inviting schoolchildren and other community members to plant trees, most likely in April, followed by more landscaping, wetland restoration, construction of two footbridges and installation of sculptures by local artists.
The earthworks have been paid for by a grant of $11,040 from the Bay of Islands/Whangaroa Community Board.
Stage 2 will involve building a visitors' centre overlooking the park.