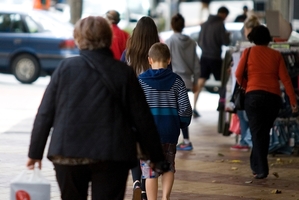 Northland is showing signs of recovery from an economic low but the region is still lacking skilled job seekers and battling stubborn unemployment.
Nationwide, consumer confidence is at its highest point in two years, with Kiwis becoming more positive about job prospects and spending more on home improvements, but also planning to save money for a rainy day.
The latest global Nielsen consumer confidence survey ranks New Zealand slightly ahead of Australia but behind the United States.
Northland/Auckland customers splurged $157 million in electronic retail spending in September - a 7 per cent year-on-year jump, Paymark figures show.
Latest realestate.co.nz figures show Northland property sellers are slightly more positive, with the average asking prices edging 1.7 per cent higher last month to $395,128, with nearly 650 listings.
However, TradeMe Jobs data for the July-September quarter showed the number of Northland job listings fell 1.4 per cent from the previous three months, and 2.5 per cent year-on-year.
Yesterday, there were 191 Northland jobs listed on the site.
The majority of jobs listed were in industries such as healthcare (34), trades and services (38), transport and logistics (24), hospitality (17), engineering (14) and sales (14).
Northland Chamber of Commerce chief executive Tony Collins said the chamber's last business confidence survey showed 54 per cent of Northland respondents thought business in the region would improve.
"That's supported by what we hear anecdotally and that's not to say some businesses aren't hurting, but I think there's a degree of confidence that certainly wasn't there 12 months ago."
However, employers had also reported a disconnect between jobseeker skills and jobs on offer, with 25 per cent of employers finding it harder to get the staff they wanted.
"Obviously unemployment is higher than we would like and it's also more so towards youth, which is an issue."
Building companies seemed more confident and numbers of approved building consents had increased in the past 18 months, Mr Collins said.
This was supported by real estate agents reporting more bare land sales.
Mr Collins said seasonal work in tourism and avocado picking would increase over the summer but was often offset by many university students returning home for the holidays.
Nielsen NZ managing director Rob Clark said nearly half of Kiwis now believed the country was out of a recession, a 12 per cent improvement from last year.
"People are feeling slightly better about their job prospects.
"However, there remains caution around the state of personal finances and their willingness to buy the things they want and need."
The hot property market also featured in people's money plans.
"More people said they would spend on home improvements and decorating, further evidence more people are looking to plan for the future, especially as the housing market continues to heat up."
Bunnings Warehouse spokeswoman Valerie Staley said spending on the building products sector had been positive for several months.