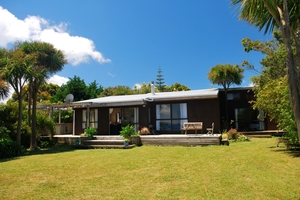 Two Northland holiday houses have beaten thousands of other properties to win big in the first Bookabach Golden Piwa awards.
Bach@Driftwood, 15 minutes' drive from Kerikeri, won gold for hospitality and bronze for best location, while Cabbage Tree Cottage, 8km north of Opononi, won gold for most pet-friendly property.
The first of two Bach@Driftwood cottages was opened for business three years ago by Vanessa Owen and her husband, Richard. Mrs Owen said they tried to offer travellers more than just a motel room.
"Right from the word go we tried to put ourselves in the holidaymakers' shoes," she said.
"We really try and offer people not lucky enough to live in Northland a piece of the culture."
Mrs Owen said they had tried to make activities such as fishing and diving more accessible for guests than they would usually be.
"Often the hassle of trying to rent the equipment puts it in the too-hard bin."
The owners of Cabbage Tree Cottage, Diana Balham and Derek Watts, also focused on giving their property a point of difference.
Mrs Balham said the acre (0.4 hectare) of land the cottage was on and the surrounding beaches gave pets space to roam around.
She said the fact they bought the property from dog owners four years ago had made accommodating pets even easier.
"We've noticed people are very grateful they can bring their pets, especially their dogs, to the bach," she said.
"People often make the point their dog enjoyed the holiday as much as they did."
Bookabach chief executive Peter Miles said some of the finalists were still available for booking over the summer months but were heavily booked for Christmas and New Year.
He said the winners should all be proud of what they had achieved.
"We've put together these awards to promote and celebrate what makes baches and holiday homes unique, and to acknowledge the effort that many bach owners put into hosting their guests."
Properties on the Bookabach.co.nz website were all eligible, and the winners were determined through public voting during September.